Shah Rukh Khan, Salman Khan, Rani Mukerji: 35 stars comes together to chat about 'Bollywood' in The Romantics trailer
Feb 01, 2023 01:43 PM IST
Netflix is all set to release a web series based on Yash Raj and his Yash Raj Films, as a tribute to him. It will be out on February 14.
OTT giant Netflix announced a new project, The Romantics which will encapsulate the story of Aditya Chopra and his journey in filmmaking. Sharing the news of the project, the first trailer video was dropped on Wednesday. It is directed by Smriti Mundhra who created Indian Matchmaking and some Never Have I Ever episodes. It will be released on the occasion of Valentine's Day on February 14 this year. Also read: Anupam Kher slams Anurag Kashyap for blaming Aditya Chopra for Yash Raj Films' downfall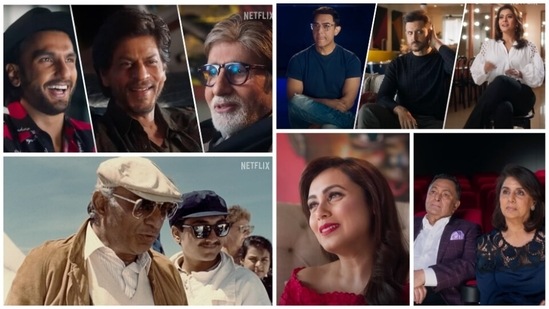 In the clip, several celebrities, ranging from Shah Rukh Khan to Kajol to Abhishek Bachchan to Amitabh Bachchan to Salman Khan and Hrithik Roshan talk about Yash Raj Films as they have worked under the production house for several films.
Abhishek Bachchan says, "Films that come out of India are completely unique to our culture. They don't try to be like anybody else." Karan Johar appears in the next scene and reveals how Yash Chopra's films caught his attention during his initial years. "He was this young director wanting to make different films," said Amitabh who worked with both Yash and Aditya Chopra.
Salman went on to talk about the variety of genres tried by Yash Chopra. However, Aamir Khan believes Yash Chopra was all about romance. Shah Rukh recalls, "There was a gentleman always standing next to Yashji. His son Adi." Rani Mukerji who collaborated with Aditya Chopra and later married him, showers praised upon him. She says, "I wanted to be the actor who talks about the modern Indian woman, and he believed in my talent."
Ranveer Singh who was launched by Aditya Chopra under his banner, shared what Chopra told him specifically ahead of his film debut. "Nobody else saw it. Only he saw it," he mentions. Hrithik credits the filmmaker for shaping the 'contours of our industry.'
The celebs are then told about documenting Aditya Chopra's thoughts about the same. Reacting to it, Abhishek says, "Aditya Chopra is a rumour. He doesn't exist." "He is very private. He hates going out," added Madhuri. Ayushmann Khurrana, Ranveer Singh and Hrithik too agree and wonder when was his last interview.
The video also features the late Rishi Kapoor and Neetu Kapoor. Rishi is heard saying, "We are definitely a force to reckon in the world as far as cinema's concerned." "Our cinema is an inherent part of Indians," chimed in Shah Rukh. All in all, the documentary is touted to celebrate the shift in Indian cinema brought by Yash Chopra and Yash Raj Films with the four-part series, including 35 lending voices. It will be a tribute to Yash Chopra.