Never criticised Prince Harry, Meghan Markle for using grandpa's legacy in Netflix show: Nelson Mandela's granddaughter
Jan 29, 2023 01:21 PM IST
It was time to 'tell the truth' about Prince Harry, Meghan Markle and her grandfather, Nelson Mandela's granddaughter and social activist Ndileka Mandela has said in a new piece she wrote for a publication.
It was recently reported that Nelson Mandela's granddaughter had accused Prince Harry and Meghan Markle of 'using' her grandfather's legacy for profit in their Netflix documentary series Live to Lead, which she had allegedly called 'deeply upsetting and tedious'. Now, the late Nelson Mandela's oldest grandchild, writer and social activist Ndileka Mandela, has said in a new piece she wrote for a publication that 'it was time to tell the truth' about Prince Harry, Meghan and her grandfather. Also read: Prince William, Kate Middleton were 'religious' fans of Suits before meeting Meghan Markle, Prince Harry says in new book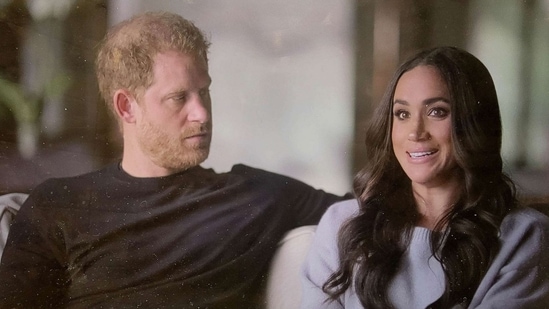 It was earlier reported that Ndileka had said in an interview that she was unhappy with Harry and Meghan for name-dropping her grandfather in Netflix's Live to Lead (2022), and allegedly said that people 'have used his legacy because they know his name sells'. In her new piece, Ndileka broke her silence days after her statement made headlines. She has now said that the words were wrongly attributed to her. Ndileka also said she was 'mortified to have seen how her words were twisted' in such a way as to distort her genuine concerns about the commercial exploitation of her late grandfather's legacy. Speaking about Meghan, she added that her grandfather's name was misused to attack a woman of colour, who was 'hounded out of the British royal family'.
She wrote in a piece for UK-based The Independent, "When people accused me recently of criticising Prince Harry and Meghan Markle for 'profiteering' from my grandfather's name, I was shocked. Because it was false. I had never accused Harry and Meghan of doing this. Instead, I was misquoted, leading to global news coverage that weaponised my name – and the name of my grandfather, the late anti-apartheid activist and first president of South Africa, Nelson Mandela – to target a woman of colour."
She also said that she 'unequivocally supports' Prince Harry and Meghan Markle's stand – and their use of her grandfather's name. Ndileka further wrote in the aforementioned piece, "In reality, I greatly admire Prince Harry and Meghan Markle for their courageous commitment to defending those less privileged than them – vulnerable people, women, and people of colour. I welcomed the Nelson Mandela Foundation's brilliant partnership with them on Live to Lead, and I celebrate the inspiration that Harry and Meghan take from my grandfather's legacy for their social activism."
Live to Lead, which premiered on Netflix last month, was inspired by Nelson Mandela, according to Prince Harry. In a 2015 speech at the Nelson Mandela Centre of Memory in Johannesburg, South Africa, Harry had said that he had met the leader before he died in 2013, a memory Harry said he has 'treasured' ever since. Harry and Meghan married in May 2018. Years later, in January 2020, they announced they will step down as 'senior royals' and work to become financially more independent, before moving to the US, where they now live with their children Archie and Lilibet.