Prince William, Kate Middleton were 'religious' fans of Suits before meeting Meghan Markle: Prince Harry in new book
Jan 06, 2023 10:50 AM IST
Prince William 'freaked' out, when he met Meghan Markle for the first time as she hugged him. Prince William, who was a big fan of Meghan's show Suits, didn't hug strangers, Prince Harry has said in his new book Spare, as per reports.
In his eagerly-awaited memoir, Spare, Prince Harry spoke about Prince William and Kate Middleton not only knowing who Meghan Markle was long before her introduced to the royal family, but also that his brother and sister-in-law were huge fans of her TV Show Suits. Before she married Harry in May 2018, Meghan was seen on the American legal drama. Also read: Kate Middleton feels 'betrayed' by Prince Harry after his Netflix documentary Harry and Meghan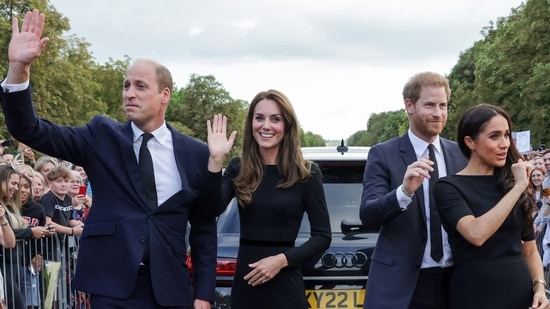 Harry recalled Prince William, now known as Prince of Wales, and Kate Middleton's introduction with Meghan, who hugged William upon meeting him. Harry also said he was shocked by their initial response before they met Meghan, when he told them that he was dating the actor. Harry said they told him 'they were religious viewers of Suits'.
Speaking about Prince William's reaction to meeting Meghan Markle for the first time, Harry wrote in Spare, an excerpt of which was shared by Us Weekly, "[It] completely freaked him out. He recoiled. Willy (Prince William) didn't hug many strangers. Whereas Meg (Meghan) hugged most strangers."
Harry further wrote about Prince William and Kate's reaction, when he told them that there was a new woman in his life. They were reportedly shocked to find out that he was dating an actor from one of their favourite shows. "I was baffled, until Willy and Kate explained that they were regular – nay, religious – viewers of Suits. Great, I thought, laughing. I've been worrying about the wrong thing. All this time I'd thought Willy and Kate might not welcome Meg into the family, but now I had to worry about them hounding her for an autograph," read an excerpt of Prince Harry's book, as reported by Us Weekly. Harry's book Spare will be released on January 10.
There have been reports that the William had advised his younger brother to slow down his relationship with Markle, as he was reportedly alarmed when they got engaged after less than a year of dating. Harry and Meghan tied the knot in May 2018. They welcomed son Archie in May 2019, and daughter Lilibet in June 2021. Since Meghan and Harry announced in January 2020 that they would step down as senior working royals, they have been open about their life in the royal family. They were recently seen in the Netflix docuseries, Harry and Meghan.