Air pollution-linked deaths will triple by 2050 if no action is taken: report
Updated on Jan 19, 2018 01:48 PM IST
The report analysed three different scenarios, business as usual, ambitious and aspirational action on air pollution.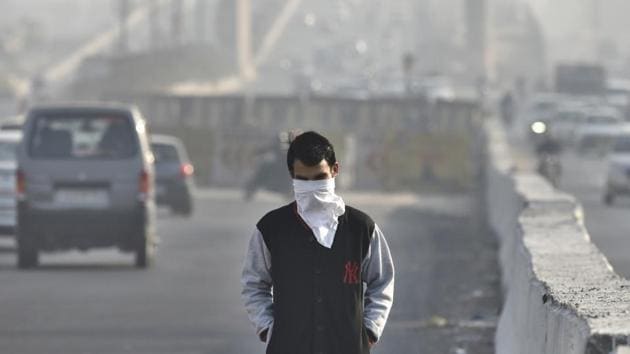 Air pollution- linked deaths in India could increase to 3.6 million by 2050 if no further actions are taken, according to a recent report published by the Health Effects Institute and IIT Bombay. The estimate took into account only pollution caused by PM 2.5, particulate matter that is 2.5 microns or less in diameter.
The analysis envisages three scenarios of mitigation actions and the tripling of mortality rates occurs in the no-action scenario. If very aggressive actions are taken to lower pollution, 1.2 million deaths could be avoided annually, the authors said.
A Global Burden of Disease report published last year estimated that 1.1 million deaths in India were linked to PM 2.5 air pollution in 2015. The new report also breaks down deaths linked to specific sources of pollution. Pollution from biomass burning is not on the largest contributor to ambient air pollution across India, it was also responsible for the largest number of deaths in 2015: 270,000.
"Residential biomass is the largest source that impacts outdoor pollution," Chandra Venkataraman, professor of chemical engineering at IIT Bombay. "These emissions that exit the kitchen areas and start coming out and coming out to ambient and start impacting air quality levels."
The other important sources were coal based industries and thermal power plants.Particulate matter pollution from crop burning was related to 66,000 deaths in 2015.
The largest increases in disease burden are linked to expansion of coal based power plants and industries. Deaths linked to coal combustion in power plants will increase 10-fold between 2015 and 2050. The authors suggest that 75%–80% power generation from non-coal sources and shift towards ; ultra-super-critical for thermal power plants will greatly help in checking pollution.
For other factors the most benefits will come if the private vehicle share falls to 40% and the entire vehicle fleet shifts to BS VI fuel.
Some experts said that the analysis was exaggerating the deaths linked to air pollution and that the study did not adequately take into account actions that are already proposed by the government.
"These projections will not hold true in 2050 because many of the policies considered are outdated, we are already moving from biogas to LPG through the Ujwala schemes ," Ajay Raghav, an environment ministry official who attended the launch of the report in Delhi, said. "and so far we have sub-critical technology but new power plants are using supercritical."
The issue of air pollution deaths has become controversial in India with leaders and officials insisting that there is no direct link between air pollution and deaths, while others have argued that air pollution is indirectly a major contributor to mortality.
"The burden of disease is significant, the issue that comes up when we as clinicians talk to policy makers is the morbidity and mortality it is causing, because there is no direct effect you can show," Randeep Guleria, director of the All India Institute of Medical Sciences, said.
"If the health indicators are not integrated with the planning process, compliance process with the impact monitoring process, then we are clearly not getting the effectiveness that is needed in the action we want to see in the future," Anumita Roychowdhury, executive director at Centre for Science and Environment, said "we need to measure our success in terms of the health impacts."
Air Pollution -linked deaths by source
2015
Residential Biomass Burning: 270,000 deaths
Industrial Coal Combustion: 82,000 deaths
Power Plant Coal Combustion: 83,000 deaths;
Open Burning of Agricultural Residues: 66,000 deaths
Transportation/
Other Diesel: 23,000 deaths
Anthropogenic Dusts: 100,000 deaths
(construction and road dusts; fly ash; other)
2050 (if no further action)
Residential Biomass Burning: 530,000 deaths;
Industrial Coal Combustion: 365,000 deaths;
Power Plant Coal Combustion: 830,000 deaths;
Open Burning of Agricultural Residues: 203,000 deaths;
Transportation/ Other Diesel: 33,000 deaths
Anthropogenic Dusts (e.g. construction and road dusts; fly ash): 743,000 deaths
(Source: Burden of Disease Attributable to Major Air Pollution Sources in India, Health Effects of Institute, 2018)