Filmmakers and journalists awarded at 'Asia's largest' green film festival
Published on Nov 05, 2017 04:05 PM IST
Over 30 films were awarded at the film festival on Saturday, and journalists who report on the environment, including HT's Ritam Halder.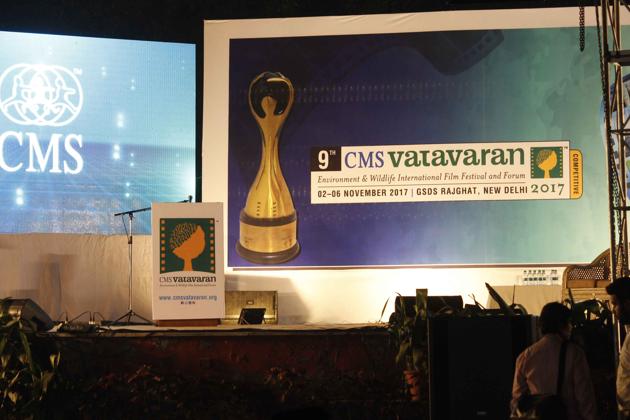 Environmentalists, filmmakers and journalists were felicitated for highlighting environmental concerns at the CMS VATAVARAN International Film festival (Nov 2-6), touted as Asia's largest green film festival, on Saturday.
Over four days 113 films from across the world are being screened. The 9th edition is being held at Gandhi Smriti and Darshan Samiti, near Rajghat in Delhi. Launched in 2002 with the support of the ministry, the festival includes workshops and seminars on issues of environmental importance.
The film awards covered the themes of climate change, water conservation, environment, wildlife, livelihood and sustainable technologies. Filmmakers in the professional, amateur categories and from schools and colleges, both from India and international, were felicitated.
The 2017 National Geographic-CMS Prithvi Bhushan Award was awarded to Chandi Prasad Bhatt, a prominent Gandhian and environmental activist. Noted filmmaker and photographer Rita Banerji was awarded this year's National Geographic-CMS Prithvi Ratna Award.
Hindustan Times' Ritam Halder received the Young Environmental Journalism award in the print category for his coverage of Delhi's air pollution crisis and the damage to the fragile ecosystem of the Yamuna flood plain. sAishwarya S Iyer of the digital platform, The Quint' won the Young Environmental Journalism award in the online category and Sowmiya Ashok of The Indian Express received the Special Jury Mention Award.
FULL LIST OF FILM AWARDEES:
National
1) Climate Change: Upto 30 minutes
Global Warning - Kashmir Chapter by Jalal Ud Din Baba
2) Climate Change: More than 30 minutes
Living...the Natural Way by Sanjib Parasar
3) Animation
Fishi-RU (The Spirit of Fish) by Anjali Nayar
4)Student-School
The Water Struggle by Samarth Singh, The Shri Ram School
5) Conservation 4 Water, Upto 30 minutes
Saving the Saviour by Jalal Ud Din Baba
6) Conservation 4 Water, More than 30 minutes
The Last Drop - India's Water Crisis by Abhishek Vijay Mahkija
(For national Geographic)
7) Environment Conservation, Up to 30 minutes
Swayer Corporations by Rathindran R Prasad
8) Environment Conservation, Up to 30 minutes
Malettam (Conquering Heights) by Thomas Devasya
9) Wildlife Conservation, Up to 30 minutes
The Race to Save The Amur Falcon by Shekar Dattatri
10) Wildlife Conservation, More than 30 minutes
Manas- Return of the Giants by Praveen Singh
11) Amateur
The Dabba Dol Gang by Anil Cherukupalli
12) Student: Colleges
Point and Shoot by Harsimran Kaur Anand, Srishti Institute of Art, Design and Technology
13) Livelihood
India Unseen-Alternative Paths (Mixed Farming) by Video Volunteers India
14) Sustainable Technologies
India Unseen-Alternative Paths (Solar Power in Farming) by Video Volunteers India
15) Special Jury Mention:
Conservation 4 Water, More than 30 minutes
Nagar Aur Pani by Iqbal Hussain and Aajad Singh Khichi
Conservation 4 Water, Up to 30 minutes
Revival of Ahar Pyne Systems (in Palamu district of Jharkhand) by Soumitra Dey
16) Best of festival National
Saving the Saviour by Jalal Ud Din Baba
International:
1) Climate Change: Adaptation & Mitigation, Up to 30 Min
Kokota-The Islet of Hope by Craig Norris
2) Climate Change: Adaptation & Mitigation, More than 30 min
Planet Sand- China, At War Against Deserts by Thierry Berrod
3) Climate Change: Adaptation & Mitigation, More than 30 min
(SPECIAL JURY MENTION)
Mother's Cry by Lisa Russell
4) Series
The Canary Islands - Part 1+2 by Michael Schlamberger
5) Animation
The Real Cost of Coal by Vibor Juhas
6) Conservation 4 Water, Up to 30 Mins
Guardians by Ernesto Arteaga Cote
7) Conservation 4 Water, More than 30 Mins
RiverBlue by David Mcllvride and Roger Williams
8) Student: Colleges
Sharing The Secrets by Drew Perlmutter
9) Environment Conservation, Upto 30 mins
Fighting Air Pollution by Huang Hong-ru
10) Environment Conservation, More than 30 Mins
Hija de la Laguna (Daughter of the Lake) by Ernesto Cabellos
11) Wildlife Conservation, Up to 30 Mins
Pangolins in Peril-A story of rare scales by Muhammad Ali Ijaz
12) Wildlife Conservation, More than 30 Mins
Making an Ancient Forest by Rita Schlamberger
13) Livelihood
SEED: The Untold Story by Taggart Siegel and Jon Betz
14) BEST OF THE FESTIVAL
SEED: The Untold Story by Taggart Siegel and Jon Betz
Personalise your news feed. Follow trending topics