How an award-winning photographer captured cruelty of rhino horn trade in one photo
Oct 23, 2017 05:26 PM IST
Brent Stirton, who won the 2017 Wildlife Photographer of the Year , says he witnessed "horrifying" scenes of environmental crimes.
The image of a black rhino pumped with bullets, his horn hacked off, his body slumped on bloodied mud shows the brutality of illegal poaching. It won Brent Stirton, 48, the 2017 Wildlife Photographer of the Year award by the Natural History Museum of London last week.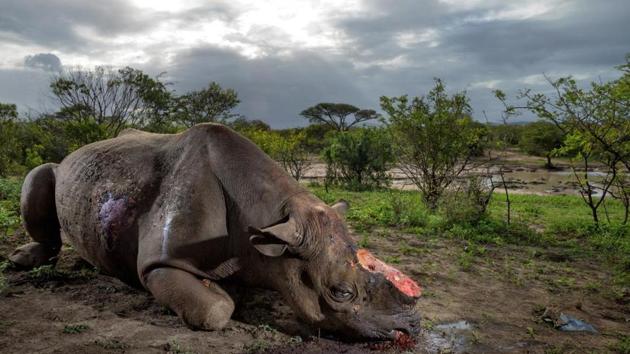 Stirton -- a senior Getty Images photographer who has also worked for National Geographic magazine -- took the image during an undercover investigation in August 2016 about illegal trade in rhino horns at South Africa's Hluhluwe Imfolozi Park
Stay tuned with breaking news on HT Channel on Facebook.
Join Now
The poachers entered the reserve illegally, ambushed the endangered rhino at a waterhole, shot him dead with a silencer and dehorned him before fleeing. They are believed to be from the local community, the Museum's description of the award-winning image 'Memorial to a Species' reads.
The South African photographer has witnessed more such scenes of environmental crimes and says he the his experiences "horrifying".
"We're losing a majority of animals on this planet incredibly fast. If more people are aware and if people stop considering animal products as a part of their lifestyles, this doesn't have to happen," Stirton told HT.
"The stark simplicity forces us to witness the brutal, tragic, stupid waste of a poacher's work," says Lewis Blackwell, Chair of the Museum's jury, describing Stirton's "poignant" image.
"If we feel disgust, it is at our own species while we pity the black bull rhino for its ghastly death... There is a horrible intimacy to the photograph: it draws us in and invites us to explore our response and responsibility."
Stirton says his images aren't meant to shock his audience, but agrees that these are shocking situations and he wants people to "wake up" to the problem. A photograph by Stirton shows the carcass of a captive lion killed by professional hunters in South Africa while another features a headless elephant poached by rebels for its ivory tusk in Democratic Republic of Congo.
A rhino-poaching crisis is unfolding in South Africa, home to most of the world's population of the bulky pachyderms. Rhino poaching rates in South Africa had surged from 83 in 2008 to a record 1,215 in 2014 to meet red-hot demand in Asian countries such as Vietnam, where the horn is prized as a key ingredient in traditional medicines.
Although the number of rhinos poached for their horns in South Africa fell 10% in 2016 to 1,054, the second straight year of decline according to government data, conservationists say the levels remain alarming.
South Africa has more than 80% of the world's rhino population with about 18,000 white rhinos and close to 2,000 black rhinos, which is why it has been at the frontline of the poaching crisis.
Africa has two rhino species of which the white rhino is the larger and more numerous of the two. The endangered black rhino is famed for its ornery disposition and is far more apt to charge at any perceived threat.
(With agency inputs)