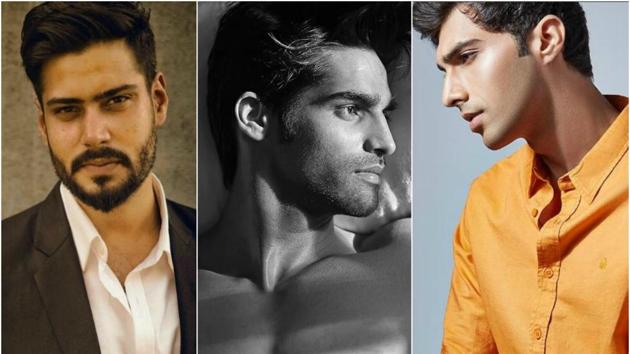 Secrets to a sharp jawline: Models blow the gaff
From face exercises to yoga poses and proper diet, know all about getting a naturally lean jawline.
UPDATED ON FEB 27, 2018 05:08 PM IST
Let's face it. A chiselled jawline is attractive! And actors and models tend to have a strong and sharp facial structure. But it's not necessary that all of them are naturally blessed. There are about 43 muscles on your face that you probably neglect during your daily workouts. So hours spent at the gym, too, won't be of much use if you don't pay attention. Hence, we speak to these male models who spill the beans and tell you how they manage to look so sharp.
Pratik Asnani
+ +
I run till I drop. Sprints work more efficiently than jogging. I also massage my face every day. It helps my skin look tighter. Yoga certainly helps, too. Simha Mudra (lion pose) and Jivha Bandha (locked tongue pose) are two asanas that I have been practicing for a long time. I got to see the results just after three months. Taking a sound sleep is also vital because your face needs relaxation. There's a reason why we call it 'beauty sleep,' right?
Anand Dixit
+ +
People go to gym aspiring to have a defined body along with a chiselled face. But no matter how hard they try, they aren't able to achieve that razor-sharp jawline. It is because they don't focus on eating right. A lot of times our face look bloated because of water retention. Lower sodium intake can help in achieving a thinner face. I also go low on carbs if I have a shoot lined up.
Amit Singh Punia
+ +
I do chin lift exercises twice a day. When you do this exercise, make sure that you don't use any other facial feature than the lips. Tilt your head towards the ceiling and keep your eyes fixed at one point. Now make your lips tight. Hold it for 10 seconds. Another technique that I usually follow is I close my eyes tightly for 10 seconds. Repeat it five times a day.
Karan Oberoi
+ +
I do leg raises at the gym that stretches my face muscles, too. In case you are using body supplements then make sure they don't have creatine (nitrogenous organic acid). Creatine monohydrates lead to water retention in the body which is not suitable if your wish is to have a defined face. Skipping and constant jumping on the floor also makes your face look toned. My calorie intakes are less than what I burn every day. And of course, good sleep is essential.
Gaurav Mavi
+ +
I do every face exercise with caution. Doing it in a wrong way continually lead to the development of wrinkles. I smile carefreely. They say smiling is the best way to define your face. And it does work. I also make what you call a fish face: sucking in cheeks from inside and trying to smile. Doing it twice a day is the right way to go about it.
Vaibhav Anand
+ +
We all know that chewing gums help in getting a well-cut cheekbone and it surely works. I have made it a habit of chewing gums for at least two hours every day. It tightens my facial muscles. I also avoid eating red meat, and junk food such as cookies and treats, and drink a lot of water.
Close