Weight loss food, a teaspoon of flaxseed daily is the superfood you need to lose weight
Jun 27, 2018 04:59 PM IST
If you want to lose weight fast, you'd need a healthy diet and a disciplined exercise routine. Fitness experts say that adding a teaspoon of flaxseed in your diet will help you reach your goals faster.
Fitness experts say you can reach your weight loss goals faster if you follow a healthy diet and a disciplined exercise routine. However, the key to losing weight is in understanding the too many dos and don'ts of the best weight loss exercises and the diet you follow. On this weight loss journey, it is important that you add a few superfoods that will help you along the way.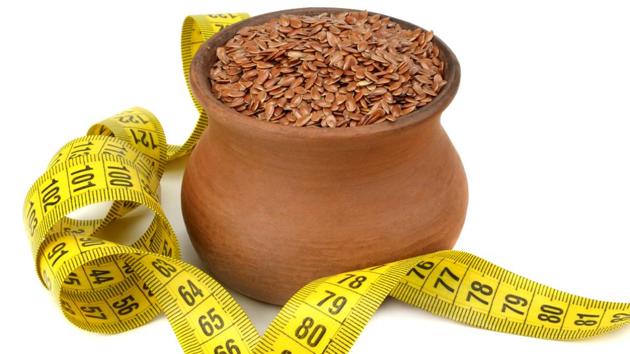 Flaxseeds, most fitness experts would suggest, is one such superfood you must include in your diet. These tiny brown-coloured seeds come from the flax plant. We use the fibre from this plant to produce the ultra-comfortable linen clothes. They are also known as linseeds and have been used for thousands of years in the Middle East.
Stay tuned with breaking news on HT Channel on Facebook.
Join Now
Benefits of flaxseeds for weight loss
Great source of Omega 3 fatty acids
Flaxseeds are loaded with the two essential fatty acids: Omega-3 (alpha linolenic acid) and Omega-6 (linoleic acid) which cannot be produced in the body. "The essential fatty acids help reduce inflammation. Flaxseeds is also a good source of thermogenic, which is the fat burning compound," says nutritionist Janvi Chitalia.
Makes you feel satiated
Adding more fibre to your meal makes you feel full for longer periods. It also helps increase metabolism, enhance digestion and motility. Flaxseeds have about 27.3gms of dietary fibre. According to Roshan Kore, senior dietician, Narayana Health - SRCC Children's Hospital, flaxseeds make you feel full sooner, thus helps you avoid piling on unnecessary calories.
Protein helps lose weight
"Flaxseeds are a rich source of protein (about 100gms of flaxseeds contains 18gms of protein). Proteins help lose weight faster," adds Chitalia.
Metabolism-Boosting lignans
Lignans that are converted into enterolignans help prevent diseases such as heart conditions and also have anti-cancer properties. "Flaxseeds contain 8 times more lignans than sesame seeds. Lignans also lower glucose levels which contribute towards weight loss," adds Kore.
Here's how to include flaxseeds in your diet
You could either add it to your salads and soups or use it for baking healthy bread. "Ground flaxseeds or milled flaxseeds and cold-pressed flaxseed oil are more effective when it comes to weight loss. This is because flaxseeds have a cover which makes it difficult to be digested by humans. Thus, ground flaxseeds are more effective for complete nutrient absorption," suggests Chitalia.
Experts recommend about 2-4 tablespoons of flaxseeds per day for effective weight loss. "However, excessive fibre intake can cause diarrhoea or nutrient malabsorption. Thus, you need to limit your intake of flax seeds if you are already eating high amounts of fibre through fruits, vegetables and whole grains," adds Kore.
Follow @htlifeandstyle for more