The plight of Delhi and large parts of north-west and central India is in sharp contrast with large parts of the country, which were actually cooler than historical average in the second week of May.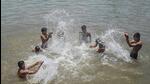 Doctors share a list of side effects of dengue that can stay even after recovery, reveal health and fitness tips to treat the same

World Hypertension Day 2022: Did you know hypertension is the leading cause of kidney diseases worldwide? Since 31% of Indian population has hypertension issues, we got a dietician on board to share diet tips for hypertension patients

From learning to seek help to practising relaxation skills to taking a timeout, here are ten ways by which we can deal with anger.

Jamun is the fruit for summer. It reminds us of the beautiful childhood memories of picking the dark fruit straight from the tree and enjoying its intense sweetness and the purple stain it leaves on our tongues. A nutritionist and a dietician spill benefits of adding it to your summer diet