Healthy diet, exercise key to keeping your stroke risk low, say experts
May 14, 2018 08:41 PM IST
Stop smoking, eat a healthy diet, lower your blood pressure, and regular exercise. These four lifestyle changes, experts say, keep you away from stroke.
Every year, about 5 million people die of stroke, says the World Heart Federation. Some risk factors such as age or having a parent or sibling who had a stroke is not in your control. Stroke is 80% preventable by addressing lifestyle factors such as eating habits and getting regular exercise in your schedule.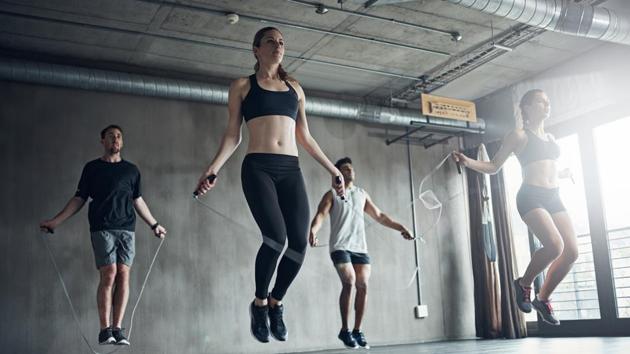 According to Dr Kaustubh Mahajan, consultant neurologist, Hinduja Healthcare Surgical, "Apart from family history, sedentary lifestyle is the main culprit. The higher the number of risk factors, the higher the possibility of stroke."
Stay tuned with breaking news on HT Channel on Facebook.
Join Now
Here are some ways to lower your risk of stroke
Stop smoking: "Addiction to tobacco and alcohol are the most important risk factors that need to be identified and controlled," says Dr Mahajan. According to a 2010 study, cigarette smoking is a well-established risk factor for all forms of stroke. Some of the chemicals present in a cigarette can damage blood vessel walls leading to hardening of the arteries. This increases chances of blood clots. According to another recent study, just one cigarette a day carries nearly half the risk for heart attack and stroke as smoking a full pack of 20.
Eat right: According to nutritionist Janvi Chitalia, a diet full of whole food, plant-based ingredients, vegetables, lentils and beans is the secret to a healthy heart. "The fibre found in whole foods helps protect against stroke," she adds. A healthy diet will ensure that your arteries are functioning well and thus reduce your risk of stroke. According to a 2018 study, reducing stress and adding green leafy vegetables can help reduce risk of stroke.
Lower blood pressure: Conditions such as hypertension, diabetes can worsen your health. "Thus it is important to seek timely intervention and treat these diseases," says Dr Mahajan. It is important to get your blood pressure checked regularly.
Exercise: If you sit for long hours, it is advisable to get up and take breaks often. Include at least 30 minutes of exercise in your routine. "Opt for moderate to brisk walking, jogging or aerobic exercise at least 5 days a week," he adds.
Follow @htlifeandstyle for more