Russian entrepreneur Elena Shifrina plans to bring the global vegan food movement to India
Meet 34-year-old Russian Elena Shifrina, a former model, who in an exclusive interview with HT shares how she became the global face of the growing vegan food movement around the world.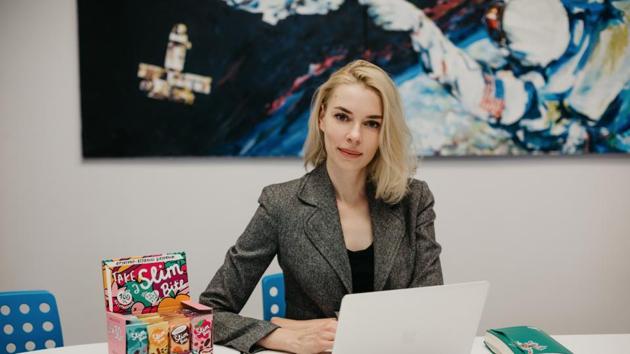 Updated on Oct 24, 2017 04:51 PM IST
Elena Shifrina's career trajectory, so far, has been unique. From being a model, who walked runways in Paris and Milan to working in the banking industry, the 34-year-old Russian has donned many hats. However, the alumnus of Massachusetts Institute of Technology (MIT) gave all this up to be a food entrepreneur. Her company, BioFoodLab, produces healthy snack bars that are free from any additives and preservatives.The bars consist of fruits, nuts, berries and spices only. In the past four years, she has expanded her business in countries like United Kingdom, UAE, China, Saudi Arabia, Kuwait and Japan. Elena has won the Forbes Russia Entrepreneur of the Year Award and her company sells 2.5m bars a month in Russia.
In an exclusive chat with HT City, she shares anecdotes of her journey and reveals how she plans to enter the Indian market.
Tell us a bit about yourself? Did you always wanted to get into this business?
I grew up in a family that always prioritised eating healthy. My mother had put us on Hay diet (a nutrition method claiming to separate food into three groups: acidic alkaline and neutral) in the sixth grade. She would review the food products carefully before buying them from the store. We were prohibited to eat junk. Initially, it was difficult for us, but, as I grew older, I kept learning more about healthy eating habits. After I stopped eating meat, I noticed a positive effect in my body. Later, I stopped drinking regular milk, substituting it with vegan alternatives. I don't understand why we need to kill animals, if everything that our body needs can be found in plants? After working as a fashion model that took me around the world, I asked myself, 'Is what I want to do with my life?' So, I researched about industries I could transition into and build a long-term career. The obvious answer was to enter the energy industry.
Then I enrolled myself at the Skolkovo Business School in Moscow for an MBA degree, where we studied about startups and learned about health food. After studying the market, I realised that there were no really quality all-natural healthy snacks in Russia. So that's how I came up with the idea to create a healthy snack. I opened BioFoodLab in 2012.
What are the challenges you face on a daily basis while running your company?
I look at every problem as a task that can be solved. And, when the problem is global, I'm happier because if I'm able to solve it, I'll be the first person in the market to do so. Stereotypes about proper nutrition still exists. People have queries on what they should eat and why. We offer ideas and solutions to them.
With the rise of sustainable food movement along with economic challenges, how do to make the product more affordable?
We believe that it's the right of every person and child to eat well. A healthy snack should be an integral part of the diet. We plan to develop healthy snacks which will bring the concept of healthy eating closer to home. But there is also a question of addressing these issues on a large scale, for instance in schools. In this situation, I think governments can subsidise the private healthy foods companies, so they can provide their products to pupils and ensure that they are eating healthy. I believe, private industries with minimum government regulation creates the market conditions that are most favourable to consumers.
Ayurveda heavily influences the way Indians live their lives. Do you plan to incorporate them into your business model when you enter the Indian market?
We appreciate the cultural characteristics of our partners. And we want to adapt our products to a new market, while maintaining a recognisable corporate identity. We'll make sure that our ingredients are aligned with the science of Ayurveda and adapts well with Indians. But, our first step is to finish negotiations with our potential Indian distributors. The Indian market is particularly appealing to us for many reasons – its large number of vegetarians, the value Indians place on animal life, and the increasing economic relations between Russia and India as both the countries are leading economies of BRICS. Personally, I'm also a huge yoga fan. I practice yoga every day.
Why do you think it's imperative for us to slowly move towards sustainable health food model in the long run?
Health lies at the heart of any nation's success. Our task is to make sure our children eat right, and to pass our experiences on to new generations. As a manufacturer, we strive for consumers to always be able to purchase healthy food wherever they are. We will continue to develop the healthy lifestyle trend and show by example that eating right is easy and tasty.
Close Story