FIFA World Cup: Why a remote village in Bengal is rooting for Cristiano Ronaldo
Hindustan Times, Midnapore |
Koushik Dutta
Jun 30, 2018 05:48 PM IST
In the time of the FIFA World Cup, Mirpur becomes little Portugal because of a 300-year-old connect. They are supporting Cristiano Ronaldo.
Cristiano Ronaldo may have millions of Indian fans but there are very few like the handful rooting for him in a remote village in Bengal.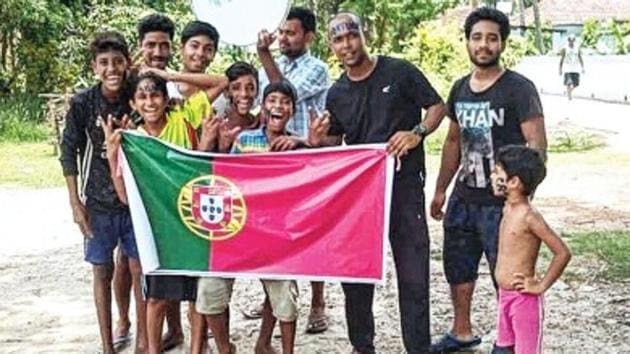 About 150 km away from Kolkata, Mirpur is backward by any yardstick. Most houses are made of mud, most roads unmetalled. The nearest bus stop is 5km away. Yet many young ones in this remote habitation on the banks of the Haldi river are going around with flags of Portugal since the 2018 Fifa World Cup began.
READ | Lionel Messi, Cristiano Ronaldo gear up for FIFA World Cup knockout phase
On the days the Ronaldo and his boys take the field, they smear their faces with red and green, the colours in the national flag of Portugal. Special prayers are held for the team in the village church.
The 150 families in this village are all of Portuguese descent.
"Ronaldo is in superb from and he will take Portugal forward. Have you watched how he scored three goals against Spain? We are sure that he will lift the cup," said Suman Perera of Geonkhali High School. His schoolmate Arpan Rojario had the same opinion.
"Goncalo Guedes, Ricardo Quaresma and others are also playing and supporting Ronaldo. Our team will win," they said.
None of them can speak Portuguese, or have any connection with their ancestors in the faraway land. "All of us speak Bengali," said Ratan Tesra, who is in his fifties, and who takes care of the village church. Tesra even has a Bengali accent typical of the East Midnapore district.
The only connection residents have with their land of origin is in the names. All the villagers are poor – almost all earn their living as marginal farmers – and have never been to Portugal.
READ | Russia 2018 can still be Lionel Messi's FIFA World Cup – Diego Maradona
Life in Mirpur is not easy – there is no high school in the village and even the primary health centre is a good 3km away. Yet, the football enthusiasts travelled to Kolkata to buy flags of Portugal.
The ancestor of the villagers came to this place, when about 300 years ago, queen Janaki of Mahishadal royal family hired some Portuguese mercenaries from Goa to thwart attacks by 'Bargees', Maratha fighters on horseback who used to invade Bengal. They did their job successfully and the queen rewarded by giving land in the village to settle down.
"This is our land now. Though we have not visited our motherland and even forgot our mother tongue, we feel we are from Portugal. If Portugal wins the championship, we will be more than delighted," said Tesra.