Rags to Real Madrid, Kerala boy set to wear big boots for La Liga giants
R Manikandan is all set to fly to Spain for his month-long trip to Madrid in July, following which football lovers in the southern city will plan to send him either to the US or a Latin American country for more high-performance training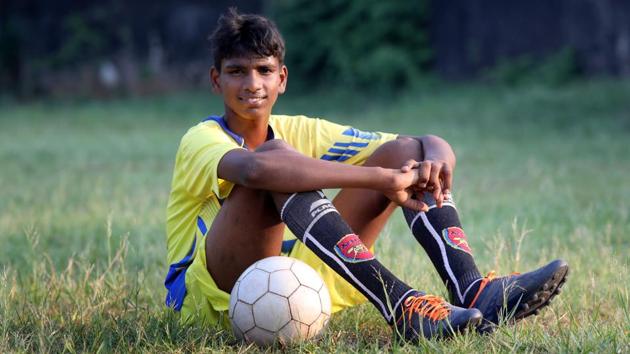 Updated on Feb 21, 2018 08:50 AM IST
From walking the streets in Kerala, begging for alms with his sister as a seven-year-old, to now looking forward to his month-long stay in Spain alongside the stars of iconic La Liga club Real Madrid, life really took an unimaginable spin for R Manikandan, now aged 14.
The six-foot lanky teenager is "very reserved" but speaks volumes when he gets hold of a football, said R Sreekumar, supervisor of the children's home where Manikandan stayed after being rescued in 2011. "Manikandan dribbles the ball with the dexterity of a rubber doll and defends the opponent ferociously," Sreekumar says.
READ | Bengaluru FC storm into AFC Cup group stage, crush TC Sports Club 5-0
The teenager is all set to fly to Spain for his month-long trip to Madrid in July, following which football lovers in the southern city will plan to send him either to the US or a Latin American country for more high-performance training.
A gifted stopper back, the under-15 player of the I-League, an Indian professional league for men's association football clubs, was spotted "accidentally". With the dilapidated orphanage rooms were crowded, Sreekumar started taking inmates to the nearby Fathima Mata College grounds in Kollam. Initially, nobody cared about them and they used to collect odd balls that crossed fields.
Later, coach MP Abhilash, who used to train senior players at the ground, spotted the boy and gave him a chance to play with the seniors. It was a game-changer and there has been no looking back for him ever since.
READ | Stephen Constantine, Indian football team coach, accepts contract extension
An under-16 player, Manikandan now represents the district and Football Plus Professional Soccer Academy in Chennai. It was while playing in Chennai that some foreign coaches told the academy about Manikandan's "hidden talent" and recommended his name for the special training, the coach said.
"I spotted him in last February. In just one year, he has improved brilliantly and I feel if he's groomed well he will be an asset to the country," said Abhilash, who will be accompanying Manikandan to Madrid. "His technique and agility are superb and his height adds to his prowess," he said.
Turned a hero overnight, many clubs have felicitated the football prodigy.
Manikandan was rescued with his sister from the premises of Oachira Parabrahma temple in the neighbouring Alappuzha district in 2011. Hailing from Tamil Nadu, wearing only rags, they were wandering with an aged woman carrying begging bowls.
When questioned by the officials of the Childline, a helpline for children, and police officials, the woman disappeared leaving behind the two, who were later shifted to rescue homes for boys and girls in Kollam. Manikandan is enrolled in Sree Narayana Trust Central School in Kollam and his sister is an inmate at a children's home for girls.
READ | Zinedine Zidane hints at resting Cristiano Ronaldo for Real Madrid's trip to Leganes
"Football is a passion for me. I owe everything to my coach and supervisor of the children's home. They encouraged me well and stood by my side," said the ardent fan of Lionel Messi.
A Class 9 student hopes his trip to Madrid and elsewhere will help to hone his skills and techniques. Like every upcoming footballer in the country, his dream is to don the Indian colours and play for a top-notch professional club.
"After the month-long training in Spain, we are planning to send him to either US or Latin America for high performance training. The recent under-17 FIFA World Cup gave a new impetus to the game and we want to exploit it to the hilt," said Girish Nair, a patron on the Black Pearls club that is always on the lookout for young sportspersons.
Close Story