Stephen Constantine: The saint of grit and grind
May 10, 2019 04:51 PM IST
The All India Football Federation (AIFF) did not host a farewell for the coach who helped the national team reach its second-highest Fifa ranking of 96 (July, 2017) from 173, it's lowest, when he joined in 2015
On the night of December 31 last year, Bahadur Singh Karki saw a side of Stephen Constantine that was nothing like the stubborn, sharp-tongued and quick-to-anger Anglo-Cypriot football coach who helped India breach the top-100 barrier in the Fifa rankings, notch up 13 successive wins, establish a scouting network and win an Asian Cup match after 55 years.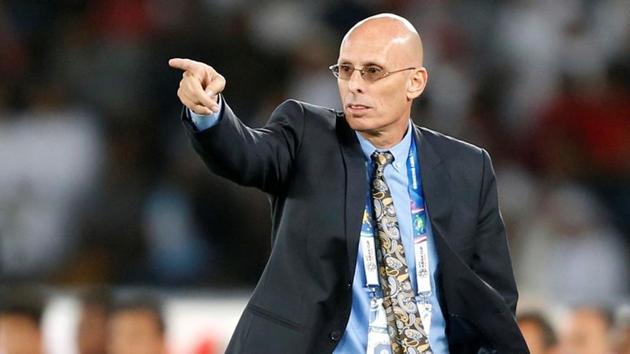 Karki, a gaunt unassuming man in his 50s is the one with the thankless job. He is the kit man of the Indian team, and like kit men all around the world, he goes under the radar. He had expected a quiet night by himself in his hotel room in Abu Dhabi while the Indian team and its support staff attended the New Year's eve dinner hosted by Constantine.
Stay tuned with breaking news on HT Channel on Facebook.
Join Now
Instead, there was a knock on his door and there was Constantine himself, insisting that Karki join the rest of the team for the celebrations.
A fortnight later, Constantine nearly teared up at the media conference while announcing his resignation after India exited from the 2019 Asian Cup. After winning 24 of the 43 games, Constantine left his "third home after England and Cyprus".
The All India Football Federation (AIFF) did not host a farewell for the coach who helped the national team reach its second-highest Fifa ranking of 96 (July, 2017) from 173, it's lowest, when he joined in 2015. "Soccer's St Jude -- the patron saint of lost causes," was how Constantine was once referred to.
"Under Stephen Constantine we not only improved our ranking but were competitive against top teams in the Asian Cup. He consistently raised the self-belief of the team," said Jeje Lalpekhlua from Ahmedabad where Chennaiyin FC are based for the AFC Cup.
"I am not going to answer any questions on my legacy. It's all there for everyone to see, so no need for me to say more," said Constantine, who spent seven years in India spread over two stints as head coach, when this newspaper sought an interview for this article.
But talk to anyone in the Indian team, or the support staff, and the one there's one constant about Constantine that emerges: He treated everyone the same.
"He didn't let the team bus wait for Venky (Shanmugham Venkatesh who had been hand-picked by Constantine). The driver was hesitant because Venky was the assistant-coach but Constantine insisted otherwise," said an official who was part of India contingent for the Asian Cup in the UAE.
This wasn't the first time Constantine, 56, refused to bend rules. During a layover in China while returning from North Korea in 2003, Constantine had fined Jo Paul Ancheri and assistant-coach VP Sathyan, a former India captain, for not seeking permission to go shopping.
"Jo Paul is a legend—fantastic guy, super left foot, strong as you like—but I couldn't have this," Constantine wrote in 'From Delhi To The Den', the autobiography he co-authored with journalist Owen Amos. As Sudan coach, he refused to pick top player Faisal Agab because he reported for a preparatory camp one day late.
The Asian Cup contingent also had a glimpse of Constantine's tetchiness when he publicly rebuffed an AIFF staff whose department was responsible for team kits. Their kits' poor quality had been festering before India beat Thailand 4-1 in the Asian Cup opener, and Constantine didn't pull any punches, according to eyewitnesses.
Constantine had sought and got better kits and accommodation during his earlier stint from 2002-05.
"I had been vocal about these things but never got the support from Indian coaches. And then Stephen came. He fought for kits, hotels, flights etc. So even though he worked our socks off, he had the players in his corner," said Bhaichung Bhutia over the phone from Gangtok. Returning to India after three years at Bury FC, Bhutia was Constantine's first India captain.
Bhutia was also head of the AIFF's technical committee when Constantine was appointed again. "We needed someone who wouldn't compromise on fitness, someone who didn't care about names. In hindsight, I would say he extracted the best out of Sunil (Chhetri)." Under Constantine, Chhetri scored 23 goals in 31 games.
"Stephen had mellowed a lot in 2015 but he never shied from calling a spade a spade," said Alberto Colaco, the former AIFF general secretary who had hired him in 2002. Speaking from Goa, Colaco also mentioned Constantine's work ethic. "At one point he was coaching four India teams, from boys to the men," said Colaco.
Shaji Prabhakaran too worked with Constantine in 2002. Like Colaco, for whom the high point of Constantine's previous tenure was the silver in the 2003 Afro-Asian Games, Prabhakaran said Constantine had matured in 2015. "I think his assignments in Africa (as national coach of Malawi, Sudan and Rwanda) helped him cope better," said Prabhakaran, president Football Delhi and a former Fifa Development Officer for South and Central Asia.
With Bhutia, IM Vijayan, Ancheri, Renedy Singh and Climax Lawrence—who remains the gold standard for Indian central midfielders ("he made Climax, who used to be a substitute striker for Salgaocar," said Colaco)—among others, the team of 2002-05 may have been more talented but Prabhakaran said what helped Constantine in his second innings was the presence of "more good coaches in the system" thanks to the I-League and the Indian Super League (ISL).
Part of Constantine's legacy is the introduction of sports science in Indian football. Enter Australian sports scientist Danny Deigan. Enter the GPS system that cost $60,000 which fed players' data into Deigan's computer.
The medical team would screen the players twice daily. "During the screenings, we look into their ankles, hamstrings, groin and also their ability to jump. It gives us an idea of the fatigue and readiness which help us plan the day's training," Deigan was quoted as saying in an AIFF media release last December.
When the GPS was first introduced before the World Cup qualifier against Iran in 2015, an India wingback covered 9507m, a central defender 9100m, a midfielder 10872m and a forward 10137m, Deigan has said. Less than four months later, the figures improved to 10476 (wing backs), 9435 (central defenders), 11298 (midfielders), 10600 (forwards), said Deigan, who now heads sports science at New Zealand Football.
En route to India's climb north in the rankings, Constantine created a players' pool who could serve India another Asian Cup and World Cup qualifying cycle. The India squad's average age was around 29 when Constantine joined in 2015. At the Asian Cup, it was 25. "He works well with young players. By the second or the third year, we had Jeje (Lalpekhlua), Pritam (Kotal), Sandesh (Jhingan), Udanta (Singh) as established internationals," said Chhetri.
Between 2015 and 2019, 47 new players represented India for the first time. "If you are good enough, it never mattered to him whether you were old enough," said India forward Ashique Kuruniyan, 21.
During a fitness test conducted in Kolkata for national team players, Constantine had even called Chhetri, then a teenager full of promise at Mohun Bagan. "I don't think he even noticed me," said Chhetri. Asked about reports that he and Constantine didn't get along well, Chhetri said: "There were differences in the way I thought we should play. But I realised if a senior player fights the coach, it would ruin team spirit. We were a young team, so young that a few of my teammates had taken my autograph not so long ago. Everyone looked up to me and I couldn't behave like a pr**k."
So what would the target for the next coach be? "It will have to be something like getting out of the first round of the World Cup qualifiers and getting out of the group in the next Asian Cup," said Ishfaq Ahmed, AIFF Technical Committee member.
But in a country with no roadmap for association football, would a new coach be like trying to inject fresh ideas into a broken system? "The league has to be longer. In the two, three, four months you don't play, you lack development," Eelco Shattorie, who coached NorthEast United FC to their first ISL semi-finals last term, has said. In a series of tweets Richard Hood, who has worked with the AIFF, showed that between 2014 and 2018 World Cup finals, those in the India team played 800 games less than Iran and 1500 games less than Japan.
None of that is going to matter to Constantine the 'Gooner' who "has played many times for Arsenal in my dreams", the nomad whose career was ruptured by an ACL tear following which he says he cried like a baby. Between coaching six national teams in four continents, Constantine has "watched games, sent emails and suffered" while seeking employment. This isn't new to him, India's adjusting to a new coach is.