Gurgaon civic body maps water bodies to remove encroachments
Published on Sep 25, 2016 01:47 AM IST
A number of ponds and lakes have been levelled to make way for high-rises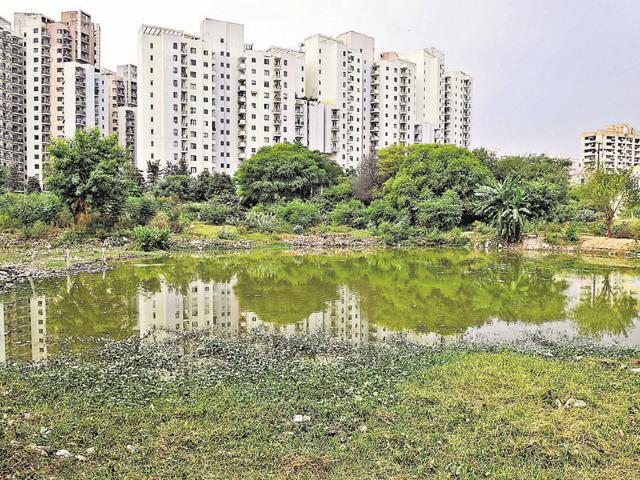 In order to revive ponds and remove encroachments around them, the Municipal Corporation of Gurgaon has undertaken a month-long exercise to map such water bodies in the city. According to government records, of the 160 ponds in Gurgaon district, only 15 can be revived.
A number of ponds and lakes were levelled in the wake of large scale urbanisation, shows government data. It has also been found that nearly 40 high-rises have been built on sites that were once water bodies.
"An exercise to identify all the kinds of water bodies is on and soon we will be able to draw up a map. Because of urbanisation, land records of a number of water bodies were altered," said senior town planner, MCG, Sudhir Chauhan.
According to official records, around 95 acres on which village ponds were located have now been used to set up high-rises. This, despite the fact that in Regional Plan 2021, relevant policies had been proposed to preserve water bodies: "The areas under water bodies, ox-bow lakes and paleo-channels and their surrounding areas as shown in the ground water rechargeable areas to be kept free from any encroachment or development to allow free flow of water. Construction activities should not to be permitted in the areas. Suitable measures should be taken to maintain the water bodies with the minimal flow/water level."
Speaking about the corrective measures, an official said attempts will be made to revive water bodies that still get recharged with rainwater.
However, an action plan will be formulated in the cases where the catchment area has been destroyed and the water body is unable to recharge itself naturally . "We will take corrective measures to revive water bodies in the city," Chauhan said.
Earlier this year, the MCG had decided to revive 12 water bodies on the basis of feasibility, catchment area and practicality within a span of six months. The 12 water bodies that were supposed to be revived include Sukhrali, Ghata, Badshahpur, Jharsa, Begumpur Khatola, Garauli Kalan, Basai, Sarai Alawardi, Jahazgarh, Kadipur, Sarhol and Dhanwapur.
According to experts, the city is likely to face groundwater depletion if there is further depletion of water bodies due to encroachment. The situation is grim as last year the Central Groundwater Board (CGWB) categorised Gurgaon as "overexploited". Following this, the Punjab and Haryana high court had banned groundwater extraction in the district. In 2013, the board reported that about 886 tube wells were sealed. It had also asked the Gurgaon deputy commissioner to check illegal boring in the region.