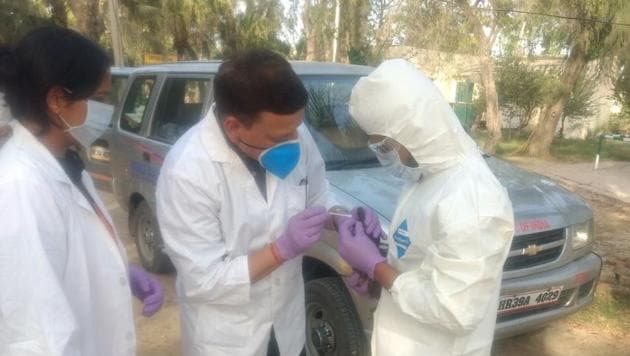 Gurgaon: Sampling for avian flu starts in Sultanpur National Park
Project aims to study emergence and recurrence of respiratory diseases in poultry; this poses major threat to animal and public health worldwide
PUBLISHED ON APR 01, 2018 11:50 PM IST
Experts from Lala Lajpat Rai university of veterinary and animal sciences (Luvas), Hisar and University of Minnesota, US, and forest department officials will begin collecting samples from resident and migratory birds at the Sultanpur National Park for a three-year project on Monday.
Luvas had proposed a project, in collaboration with University of Minnesota, US, in 2016 to surveil migratory and resident birds for the Avian Influenza (AI) virus. The department of agricultural research and education, the Indian council of agricultural research, and the state forest department granted the requisite permissions in December 2017. A 12-day training programme was organised from February 5 to February 16 this year, at Hisar, where the project overview was discussed.
The project was proposed to research the emergence and recurrence of respiratory diseases in poultry that threaten animal and public health worldwide, said Dr NK Mahajan, principal scientist, veterinary public health and epidemiology, college of veterinary sciences, Luvas.
"The pursuit of this research will be helpful in advancing science to reduce the challenges of countering emerging disease threats of considerable economic impact to the poultry industry in India as well," said Dr Mahajan.
The Sultanpur National Park, situated 15km from the city, will be one of the two places in Haryana where these samples will be collected from over a period of three years for surveillance of the virus. The other place is Bhindawas Bird Sanctuary in Jhajjar, where sampling was done in February and March. Though most migratory avian species have left Sultanpur, research on the resident birds will begin from Monday, said a state wildlife official.
According to him, only oral swabs will be taken from the migratory birds that are the probable carriers of the viruses.
"We have collected swabs from 20 bird species from Bhindawas Bird Sanctuary, Jhajjar. We plan to work at the Sultanpur Bird Sanctuary next and send the samples to Luvas. Also, we have been asked to send any dead birds we find so that they can monitor and collect samples to prevent the outbreak of bird flu," said Dr Ashok Khasa, veterinary surgeon, wildlife, forest department.
The collection of samples from resident birds will be done till August and migratory birds will start flying in by September after which, they will be subjected to a sample collection process. Sultanpur sees a flurry of winged visitors in the winter — more than 30,000 birds from different parts of the world. At present, there are 35 species of residents birds here.
"Many species of these migratory birds are known carriers of the AI virus, which not only causes mortality and economic loss in the domestic poultry but is communicable to human beings. This sampling exercise will help in possibly stopping this," said Haryana's forest and wildlife minister Rao Narbir Singh.
In late 2016, a number of dead birds found in Rajpura, Punjab, had tested positive for bird flu (H5N8 avian flu). Following this, Haryana's animal husbandry department had carried out a massive culling of birds and banned visitors to Sultanpur National Park fearing their exposure to migratory birds. The state government had also issued an advisory to all district headquarters for preparedness, control, and containment of the disease
FACT FILE
Close