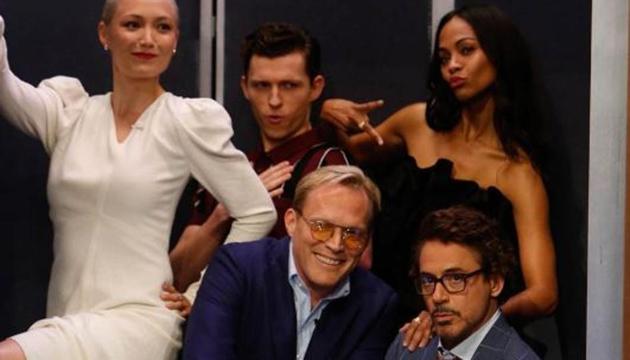 Avengers: Infinity War cast reads mean tweets on Jimmy Kimmel show. Here's your lol moment
Avengers: Infinity War may be breaking records at the box office and receiving love worldwide but even they have haters.
UPDATED ON MAY 01, 2018 11:54 AM IST
If box office collections are anything to go by, Avengers: Infinity War is getting immense amount of love right now. But haters gonnna hate and Earth's mightiest heroes are no exception to this role. So, on Monday night, Captain America, Black Widow, Black Panther, Star Lord and Co. came face to face with the haters and the trolls. The address, as always, was Jimmy Kimmel Live's section 'Mean Tweets'. And as the cast read the tweets, their reactions were priceless.
Actors Tom Hiddleston, Don Cheadle, Samuel L Jackson, Scarlett Johansson, Elizabeth Olsen, Benedict Cumberbatch, Tom Holland, Anthony Mackie, Chadwick Boseman, Paul Rudd, Dave Bautista, Winston Duke, Sebastian Stan, Karen Gillan, Paul Bettany, Chris Pratt and Chris Evans are reading the tweets in the promo, with the exception of Robert Downey Jr aka Iron Man. Now, the actor or his superhero alter ego would have had a vinegary comeback we could have used.
While most of the actors take the hate on their chin, Johansson mirrors our confusion as she reads out a tweet that says she is the reason they hate white people. Cumberbatch erupts in laughter when (not a) fan says he looks like he is always having a severe allergic reaction to shrimp. Holland maybe agrees when someone says he looks like the kind of guy who claps when their plane finally lands. However, the best is Jackson's reaction to being called a snapping turtle.
Evans gets a backhanded compliment from his online hater who believes he is a fine actor but plays Captain America like a "dumb hunk of s**t". Chadwick Boseman gets burned too as someone says, "How did the coolest blackest dude in the galaxy end up with some whitebread a-- name like 'Chadwick?"
Avengers: Infinity War has broken all records, turning out to be bigger than previously estimated. The Walt Disney Co. on Monday reported final weekend numbers for the superhero smash at $257.7 million in U.S. and Canadian theaters, further boosting the film's record-breaking opening weekend.
Disney had forecast a $250 million debut, which topped the $248 million record set by The Force Awakens in 2015. Marvel now holds six of the top 10 opening weekends of all time, with Disney accounting for nine of the 10. Infinity War also set a new global opening weekend record with ticket sales exceeding $630 million worldwide.

Close