Ben Affleck reacts to horrible BvS reviews, becomes sad, breaks hearts
Ben Affleck's reaction to the horrible Batman v Superman is the most hilariously heartbreaking video you're ever going to see.
hollywood
Updated: Mar 27, 2016 15:47 IST
Poor Ben Affleck. Just think about all those months he's spent praising Batman v Superman: Dawn of Justice. All those times he'd promised how the movie would blow our minds. And then the reviews came in. The only way it could get worse is if he were asked about the negative reviews in an interview. Which is just what happened.
Read the Batman v Superman review here
Affleck and Henry Cavill, who plays Superman in the movie, were being interviewed by Yahoo Movies when the interviewer asked them about the negative reviews the movie was getting slammed with. Cavill, well aware of the bad buzz, took the lead in answering the question. Affleck, meanwhile, sat in glum silence.
Read: In defence of Sucker Punch: It's Inception by BvS director Zack Snyder
Watch the video
Then, the greatest thing ever happened. A YouTuber named Sabconth uploaded an edited version of the clip that plays like the most heartbreaking 2 minutes ever captured on video. He scored it to Simon & Garfunkel's The Sound of Silence - a song choice Zack Snyder fans will appreciate - slow-zoomed in on Affleck's gloomy face, as the song drowned out Cavill's answer. The expression on Affleck's face can only be described as one of depressed contemplation. And it's hilarious.
Watch the original video here
We all know how harsh YouTube commenters can get. Case in point: "This video has better editing than Batman v Superman."
Batman v Superman: Dawn of Justice is currently at 30% on the review aggregator site Rotten Tomatoes. Hindustan Times' review said, "Batman v Superman is not so much a superhero movie as it is a story about two mamma's boys measuring the length of their capes, finding that they disagree, and proceeding to poke each other with threats of 'you wanna go first?' for a solid two-and-a-half hours."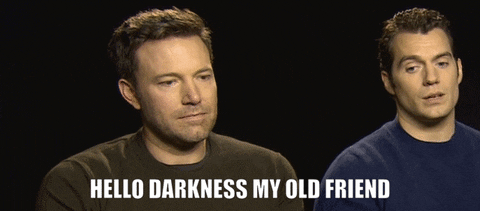 Follow @htshowbiz for more
First Published: Mar 26, 2016 14:19 IST