Dumbo trailer: Tim Burton's little elephant will make you shed big tears, watch video
Nov 15, 2018 05:48 PM IST
Dumbo trailer: The first trailer for Tim Burton's live-action adaptation of the Disney classic is here. Watch it here.
The first trailer for Tim Burton's live-action remake of Disney's Dumbo is finally here. It tells the same story of a little baby elephant with giant ears caught up in the evil world of commercial entertainment.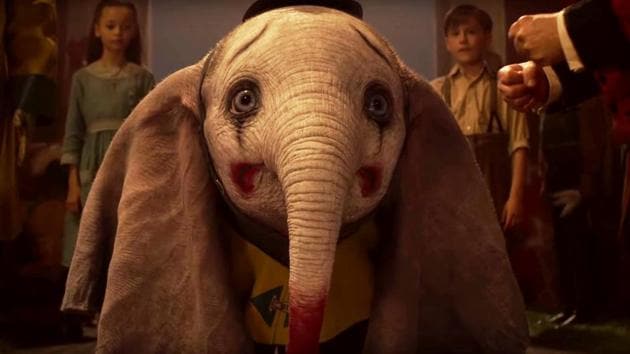 The trailer begins with the circus manager's—played by Colin Farell—children finding Dumbo in his tent. While playing with him, they discover that he has the ability to fly by flapping his ears. Soon, evil comes knocking on the door in the form of Michael Keaton's rich businessman, out to make some quick buck through the circus.
We see the circus animals, trapeze artists and the ring master enthral the audiences and soon the evil showman takes over. Even Dumbo's mother is sent away while Farell's kids beg their father not to take her away. A quick cut of scene show Dumbo looking utterly sad as he gets plastered with clown make-up and trips on his ears.
He gets hoisted up on a platform as the kids and the audience ask him to fly. There is also a fire and Colin Farell riding on a horse to save the day. Watch the trailer here:
The official synopsis reads:
From Disney and visionary director Tim Burton, the all-new grand live-action adventure "Dumbo" expands on the beloved classic story where differences are celebrated, family is cherished and dreams take flight. Circus owner Max Medici (Danny DeVito) enlists former star Holt Farrier (Colin Farrell) and his children Milly (Nico Parker) and Joe (Finley Hobbins) to care for a newborn elephant whose oversized ears make him a laughingstock in an already struggling circus. But when they discover that Dumbo can fly, the circus makes an incredible comeback, attracting persuasive entrepreneur V.A. Vandevere (Michael Keaton), who recruits the peculiar pachyderm for his newest, larger-than-life entertainment venture, Dreamland. Dumbo soars to new heights alongside a charming and spectacular aerial artist, Colette Marchant (Eva Green), until Holt learns that beneath its shiny veneer, Dreamland is full of dark secrets.
Directed by Tim Burton ("Alice in Wonderland," "Charlie and the Chocolate Factory") from a screenplay by Ehren Kruger ("Ophelia," "Dream House"), and produced by Justin Springer ("TRON: Legacy"), Kruger, Katterli Frauenfelder ("Miss Peregrine's Home for Peculiar Children," "Big Eyes") and Derek Frey ("Miss Peregrine's Home for Peculiar Children," "Frankenweenie"), "Dumbo" flies into theaters on March 29, 2019.
The film releases on March 29. Disney hopes for it to continue the streak of success their live-action remakes such as Cinderella, Beauty and the Beast, Jungle Book and Maleficent have started.
Follow @htshowbiz for more