Ryan Reynolds reveals how he got those two A-listers to cameo in Deadpool 2
A cup of coffee and a dinner; that's apparently all it took to convince Brad Pitt and Matt Damon to cameo in Ryan Reynolds' Deadpool 2.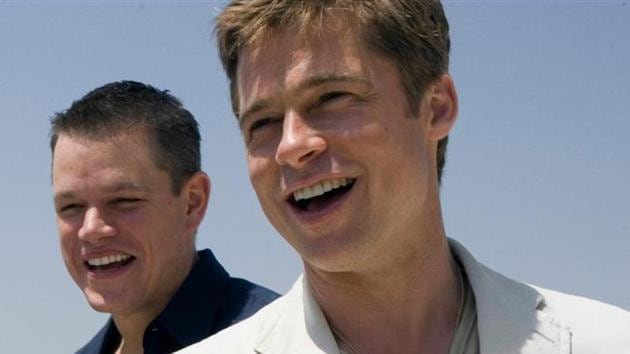 Updated on May 23, 2018 09:23 AM IST
Spoilers for Deadpool 2 follow
If you blinked your eyes during Deadpool 2 -- and chances are that you did -- then there's a very real possibility that you missed the film's biggest surprise -- a cameo appearance by one of the world's biggest movie stars. Midway through the film, an invisible character called the Vanisher has his true appearance revealed for ⅓ of a second. It was Brad Pitt. And now, the film's star, Ryan Reynolds, and director David Leitch, have spoken about how they made that cameo possible.
Pitt was rumoured to have been in talks for the role of the time travelling cyborg, Cable, who was played by Josh Brolin in the film. But after that didn't materialise, he 'left the door open' for another sort of collaboration, Leitch told Collider.
"I was ecstatic (about the Pitt cameo), I couldn't believe it. We had early talks with him about Cable, you remember the artwork was leaked and we had to pull it back from the internet. It was serious talks and I think he was really interested, he loves the universe and he loves Deadpool. But for whatever reason it didn't work out, and he kind of left the door open when we left that meeting, like, 'If you guys ever need anything give me a call, I'd love to be involved,' and Ryan just said, 'Oh I have an idea.' So we started to think about what it could be and The Vanisher thing was perfect."
But although he wasn't the first choice for the role, Brolin's performance won over Leitch. "It always works out, and now I can't see it any other way," he said.
Reynolds said that Pitt was paid with a single cup of coffee for his blink-and-you-miss appearance in the superhero sequel. He said that the premise behind the cameo was 'What's the most wasteful way to use the biggest movie star in the world?' and both him and Pitt found it funny.
And both Brolin and Pitt had a movie reunion with a former colleague: Matt Damon -- even though neither shared scenes with him. Damon's was a cameo that was less easy to notice, since the actor was slathered in thick prosthetics. Leitch, who before turning director with John Wick, was a big-time Hollywood stuntman, cashed in on his relationship with both Pitt and Damon. He'd doubled for both stars in the past, and armed with Reynolds' star power, got them on board Deadpool 2.
"(The cameos happened) because you have the celebrity star-power of Ryan Reynolds, you have a franchise that is beloved, and then I have worked with both of them as a stunt double, so I think having all of those things helped. Moreso Ryan Reynolds and moreso Deadpool being beloved, but me knowing who they were cracked the door open a bit, and actually Matt knows Ryan really well too," Leitch said. The filmmaker continued that all it took to convince Damon to do the bit was a dinner conversation with Reynolds.
Damon also made a cameo appearance in the recent Marvel superhero movie, Thor: Ragnarok.
Meanwhile, Deadpool 2 continues to rule the international box office. The film has made over $300 million worldwide, including a solid Rs 33 crore opening weekend bow in India.
Follow @htshowbiz for more
Close Story