Spider-Man Far From Home leaked set pics reveal Tom Holland's new costume
Updated on Oct 15, 2018 01:26 PM IST
Leaked images from the sets of the upcoming Marvel sequel, Spider-Man: Far From Home, reveal a new design for Tom Holland's Spidey suit. Check them out here.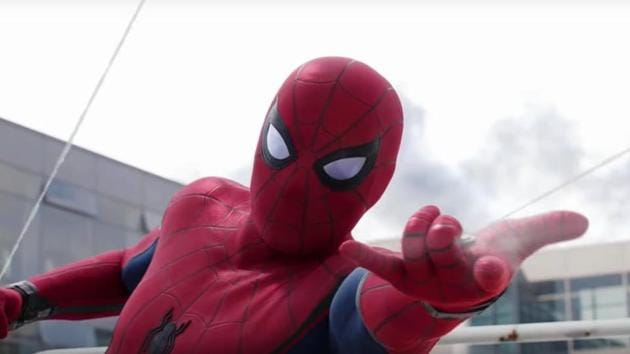 A new set of leaked set pictures have given fans a closer look at Spider-Man's new costume from the upcoming Spider-Man: Far From Home. The images appear to be from a scene in which Tom Holland's superhero saves Zendaya's MJ (not Mary Jane Watson) from some sort of trouble.
The new pictures reveal Spidey's second new look from the sequel to 2017's Spider-Man: Homecoming. The images are in high-resolution, providing us a close look at the new colour scheme of the costume, and its textures and contours.
Several fans online have noted the costume's throwback to the original Spidey designs by co-creator Steve Ditko. The blue is almost black in tone, and even the shoes have an almost sporty quality. This is the second of Spidey's looks to have been leaked from the sets of the film, which has been filming in London and Atlanta - Marvel's home base.
The previous look has been compared to Spider-Man's noir version, who will be voiced by Nicolas Cage in the upcoming Spider-Man: Into the Spider-Verse. You can check out images of the Spider-Man Noir costume here.
Holland's Spidey has gone through various costumes during his tenure. He wore the same suit in both Captain America: Civil War and Homecoming, but was given a high-tech Iron Spider suit for Infinity War.
The second Spidey movie to be co-produced by Sony and Marvel Studios will take the fan-favourite superhero, as the title suggests, far from home. Earlier images from the sets also revealed the film's villain, Mysterio, played by Jake Gyllenhaal.
Spider-Man: Far From Home is one of the few sequels to have officially been greenlit within the Marvel Cinematic Universe, as fans await the fates of several characters after the ambiguous ending of Avengers: Infinity War.
Other sequels in various stages of development include Guardians of the Galaxy Vol 3, a Black Widow solo movie, a Black Panther follow-up, Doctor Strange 2 and The Eternals.
Follow @htshowbiz for more
Personalise your news feed. Follow trending topics