Watch: Michael Fassbender slays in the new Assassin's Creed trailer
A new, lengthy trailer for the Michael Fassbender movie Assassin's Creed, was released online on Monday ahead of its December debut.
hollywood
Updated: Oct 19, 2016 12:55 IST
A new, lengthy trailer for the Michael Fassbender movie Assassin's Creed, was released online on Monday ahead of its December debut.
Conspiracy, virtual reality, and martial arts proficiency mix in the second trailer for the lavish video game adaptation Assassin's Creed.
Michael Fassbender stars as Callum Lynch, a convicted criminal whose bloodline has been traced back to a clandestine organisation of Assassins.
That's brought him to the attention of Abstergo Industries, a high-tech corporation pioneering full-body, immersive experiences via the Animus Project, but harvesting its subjects' genetic memories in the process.
What happens in the Animus doesn't stay in the Animus; Lynch's experiences as a deadly, rooftop-running secret agent in 15th century Spain translate well into the modern day, where an ongoing struggle is taking place between the Assassins and their timeworn enemies, the Templars.
Assassin's Creed draws heavily on its video game inspiration, Ubisoft's ten-year-strong franchise of the same name that has taken players to recreations of 12th century Israel and Syria, through Renaissance-period Florence, Venice, Rome, and Constantinople, to revolutionary-era France and America, the 18th century Caribbean and New Orleans, and Victorian era London.
Ubisoft set up its motion picture division following the success of Jake Gyllenhaal-led action film Prince of Persia: The Sands of Time, whose 2010 effort was based on a predecessor to the Assassin's Creed games.
And while Assassin's Creed is to mark Ubisoft Motion Pictures' feature film debut, it's the first of half a dozen projects currently set for feature-length adaptation.
Alongside two-time Oscar nominee Michael Fassbender, who's become a fixture of the X-Men franchise and played tech guru Steve Jobs in a 2015 biopic, there are Oscar-winners Marion Cotillard (Inception, The Dark Knight Rises,) and Jeremy Irons (Batman v Superman, The Lion King) triple Golden Globe nominee Brendan Gleeson (In Bruges, Edge of Tomorrow,) and Michael K Williams (12 Years a Slave, Boardwalk Empire.)
Behind the camera, there's Australian helmer Justin Kurzel of another historical epic, Macbeth, which also had Fassbender and Cotillard as its leads.
Assassin's Creed is due in theatres from December 21, when it starts a worldwide theatrical rollout in the USA, Canada, France, Hong Kong, Malaysia, and Singapore, with Australia and Germany among territories following soon after. The UK and Ireland, the Netherlands, and various European and South American countries are earmarked for a January release.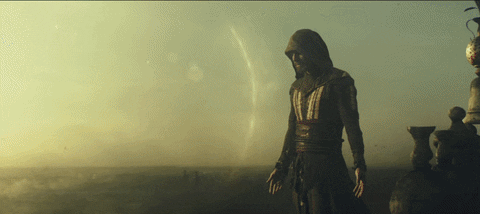 Follow @htshowbiz for more
First Published: Oct 19, 2016 12:54 IST