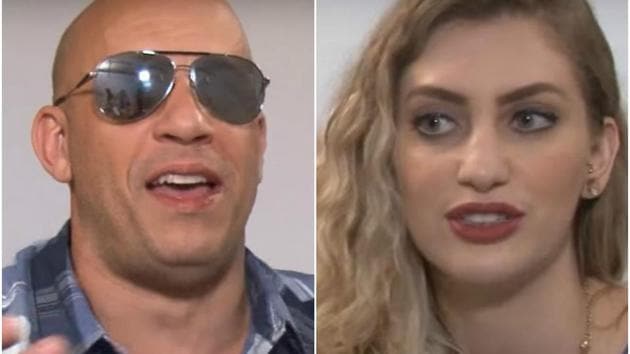 Watch Vin Diesel get creepy towards an uncomfortable interviewer
Vin Diesel was recently being interviewed by a Brazilian reporter Carol Moreira for his upcoming film, xXx: The Return of Xander Cage. Instead of answering her questions, Diesel started showering her with compliments as the cameras rolled, saying "I can't do this interview! Look at her! She is so f***ing beautiful sexy."
UPDATED ON DEC 23, 2016 04:19 PM IST
Vin Diesel was recently being interviewed by Brazilian reporter Carol Moreira for his upcoming film xXx: The Return of Xander Cage. Instead of answering her questions, Diesel started showering her with compliments while the cameras rolled, saying "I can't do this interview! Look at her! She is so f***ing beautiful sexy."
He even left his seat towards the end of the extremely awkward interview and began slowly walking towards her in a creepy manner. Carol looked visibly uncomfortable and even looked at her off screen crew for help repeatedly. However, Diesel continued with his antics.
The 49-year-old actor also said, "Am I right or am I wrong? Someone save me. When did this turn into a beautiful world? When did this turn into the most gorgeous girl in Brazil? When did this turn into I love you?"
The 12-minute interview was interrupted by Diesel several times with similar expletive-heavy statements about Moreira's beauty. At one point he even called her 'baby': "How am I supposed to do this interview? Look at this woman. She's so beautiful. Talk to me baby."
Moreira opened the video with a preamble in which she said that she felt uncomfortable with Diesel's compliments. "He began to hit on me in the middle of the interview, say that I was pretty, and he interrupted the interview three times to talk about it. I was laughing, completely uncomfortable. I was not sure what to do. I just laughed because it was a very delicate situation. I did not like it. At the time I did not know how to react, but you will see that I was uncomfortable, it was not nice that he interrupted my work."
+
In August, Diesel's Fast & Furious co-star Dwayne Johnson slammed an anonymous actor for being unprofessional. It was rumoured that the tiff was with Diesel.
"There's no other franchise that gets my blood boiling more than this one. An incredible hard working crew," he said, praising the professionalism of his female co-stars in the action franchise.
+
"My male co-stars however are a different story. Some conduct themselves as stand up men and true professionals, while others don't," the former wrestler went on.
Follow @htshowbiz for more
Close