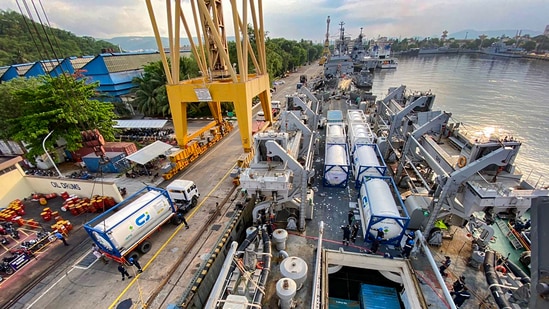 Friendships, reciprocity, and diplomacy in the time of Covid-19
The study has been authored by Kashish Parpiani.
By Observer Research Foundation
PUBLISHED ON JUL 21, 2021 12:04 PM IST
Over the past few months, India has found itself in the throes of a cruel second wave of the Covid-19 pandemic. In May 2021, the country registered the highest single-day tallies of new Covid-19 cases (over 400,000) and deaths (about 4,500) in the world. Combined with the toll of the first surge, the second wave of the pandemic has pushed the total death count in India to exceed the 300,000 mark. Experts attribute the steep rise in infections to the B.1.167 variant, and a lapse in preventive measures early this year. Images of the pandemic's impact filled the news across the world, and quickly spurred an outpouring of solidarity from the international community.
Nations around the world scrambled to assist India with critical medical supplies and therapeutic/diagnostic equipment. By early May, the country had received some 9,000 oxygen concentrators, over 5,000 oxygen cylinders, 18 oxygen generators, and 3.4 lakh Remdesivir vials. Nearly 40 countries, by mid-May, have offered assistance in varying forms.
This report offers region - and country-specific analyses of the assistance received by India for its battle against Covid-19. The report makes an extensive account of the assistance received, and ponders the domestic factors that drove these regions and countries to extend their hand to India.
Sohini Bose and Kabir Taneja note the centrality of India's historical and socio-cultural linkages with South Asia and West Asia in their respective chapters. Similarly, in identifying the prevalence of nascent geopolitical trends in assistance received by India, Sreeparna Banerjee and Mrityunjaya Dubey underscore the impetus to region-based solutions in the Indo-Pacific, and the fast-developing India-Europe partnership on the global stage.
In their chapters on the global powers, Nivedita Kapoor and Kashish Parpiani underscore the vitality of India's time-tested partnership with Russia, and the enduring India-US relationship even amidst a continued focus on 'America First' nativism. Finally, Aarshi Tirkey outlines the growing international support for India's efforts to bolster multilateral initiatives against the Covid-19 pandemic.
The study can be accessed by clicking here
(The study has been authored by Kashish Parpiani)
Close