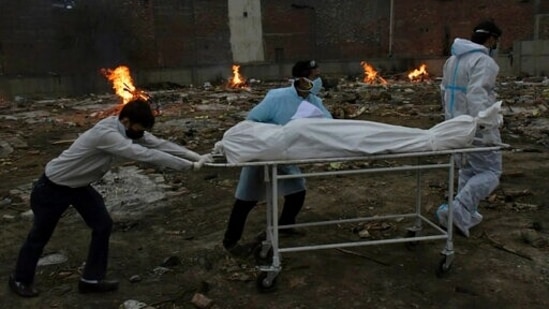 Winning the Covid-19 Battle in Rural India: A Blueprint for Action
The study has been Malancha Chakrabarty and Shoba Suri.
By Observer Research Foundation
PUBLISHED ON JUL 17, 2021 09:10 PM IST
As India welcomed 2021, the country was reporting less than 15,000 new Covid-19 cases per day between mid-January and mid-February. Soon, however, there was a surge, and on April 7, the number of daily infections reached 126,260 with the seven-day daily average crossing 100,000. By then it was clear, that the second wave of Covid-19 in India would be far more severe than the first one. The steep rise in infections and deaths made headlines across the world, as images of mass pyres and people queueing for free oxygen cylinders in temple grounds made the rounds of social media.
Today, while the number of active cases has come down in many big cities, the pandemic is fast spreading across rural districts, with the biggest increases being recorded in the states of Rajasthan, Maharashtra, Uttar Pradesh, Karnataka, Andhra Pradesh, and Kerala (See Figure 1). A report by the State Bank of India (SBI) noted that by mid-May, the rural districts accounted for 50% of all new cases in the country. The rural areas of Amravati in Maharashtra are worst affected with a large number of new cases, and those of Nagpur in the same state have also become hotspots. About 35% of all Covid-19 deaths in Haryana have been reported from the rural districts, with the heaviest toll in Hisar (258), followed by Bhiwani (217), Fatehabad (159), and Karnal (150). The second wave has also hit the rural areas of Gujarat. The state reported 90 deaths in 20 days from one village alone, Chogath, which has a population of 13,000. Two of India's largest and most populous states – Uttar Pradesh and Bihar—have also witnessed a steep rise in Covid-19 cases in their rural districts.
To be sure, the actual numbers of Covid-19 cases in the rural regions of India could be much higher than the official figures because of low testing rates and people's reluctance to get tested, to begin with. Given the severe shortage of medical facilities in rural India, managing the spread of the pandemic would prove to be even more difficult than what the urban cities experienced earlier this year.
The key reasons for this include lack of internet connectivity, low smartphone access, digital illiteracy, and apprehensions about vaccine safety. Moreover, there is also a problem of availability of doses, which has compounded the lag. A December 2020 household survey across 60 districts in 16 states found low preference for vaccines, with only 44 percent willing to pay for it.
Given that 65.5% of India's entire population is rural, adequate steps need to be undertaken at the earliest to prevent the occurrence of a health catastrophe in rural India. An economic crisis is making the challenges more acute. As a response to the rise in infections, many states such as Madhya Pradesh and Uttar Pradesh are under lockdowns to curb the spread of the virus. Consequently, villagers who are mostly daily-wage workers or street vendors in nearby towns have lost their livelihoods. While remittances from family members working in big cities were relied upon to boost the incomes of the rural households, the rise in cases in the urban areas beginning in early February led to another exodus of migrant workers from those cities, similar to what occurred in 2020 during the first wave and nationwide lockdown. Rural households suffered losses in household incomes as a result, pushing many to deeper indebtedness and worse hunger. Media reports suggest that people in rural India are eating less and often not able to afford nutritious food like pulses and vegetables. Overall, a survey in October 2020 among urban and rural communities in 11 states found that almost 70% of households are not consuming nutritious meals, with about half of them skipping at least one meal every day. If India is to prevent a humanitarian disaster in its hinterland, there is a need for an effective strategy to control the spread of the virus, as well as sincere and targeted efforts to reboot the rural economy and provide welfare services to the people.
This special report describes the specific challenges wrought by Covid-19 in India's rural areas, and outlines a ten-point agenda for effective pandemic management and the revival of the rural economy. The rest of the report provides an overview of the government's efforts to manage Covid-19 in rural areas; discusses the specific challenges in those regions; and presents a ten-point strategy for immediate action. Among others, the report recommends the constitution of a task force, and the provision of a special economic package for the rural regions.
You can access the full study here
(The study has been Malancha Chakrabarty and Shoba Suri)
Topics
Close