Athletes are chasing their golden dreams, writes Abhinav Bindra
Nov 15, 2017 11:16 PM IST
While the strong sense of self-belief now exists in our athletes, unfortunately our talent development systems have not kept pace.
As a young teenager, I watched Jaspal Rana shoot at the Atlanta Olympics in 1996. I don't remember being inspired by the various medallists from across the world. What excited me was seeing a fellow Indian – "someone like me" – participating in the greatest sporting event on earth. If he could, maybe I could too. Four years later, I was at the Olympics myself. So much has changed in Indian sports in the two decades since then. And so much hasn't.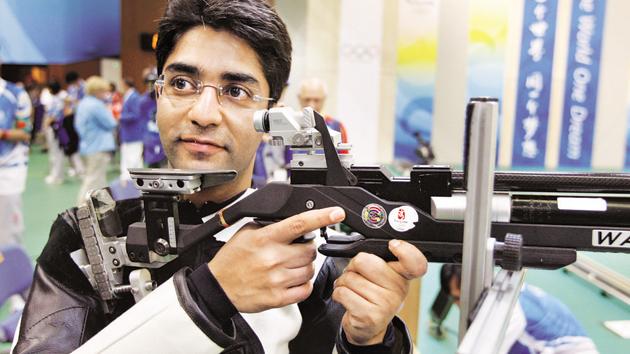 We have now won individual medals at six consecutive Olympics. The trope that "Indians are not good at sport, so let's stop trying" has been relegated to history and our athletes of this generation aspire to be Olympic medallists and not just contenders. Much of this comes down to belief and I am glad I have been able to contribute my bit to instilling it in our athletes through my own journey.
My gold medal at the Beijing 2008 Olympics was on the back of Colonel Rajyavardhan Rathore's Olympic silver at Athens 2004. What the gold meant was that the historic bogey was gone. Indians were indeed capable of winning individual Olympic gold. It took hard work and persistence on my part but my journey was completely unexceptional when compared with that of every other Olympic medallist from anywhere else in the world. I was simply fortunate to have enough support and opportunity to be in the "zone of contention", which no amount of persistence alone can bring.
While the strong sense of self-belief now exists in our athletes, unfortunately our talent development systems have not kept pace. It is one thing to have aspirations and goals as a sporting nation, but quite another to do those things that are needed to achieve those goals. Participating in the deliberations of the Olympic Task Force and the committee to draft the National Sports Governance Code earlier this year gave me a view into where we stand and the significant systemic and structural upgrades we need. There is much to do and it will need the collective will of a wide variety of stakeholders. If we are serious about our sporting aspirations, we cannot just sit back and expect the government to do everything.
Sporting achievement becomes self-sustaining when it is organically created and supported by the societies that surround athletes during their journeys. These societies promote physical activity from an early age and embed the behaviours and attributes of excellence in their daily language.
My sport of shooting has been through its own ups and downs. With results come expectations. Rio 2016 was the first Olympics in which we did not win a shooting medal since Sydney 2000. That caused much soul-searching. Of course, medals are only one of the metrics of success and I am always amazed when I visit the shooting nationals and see the participation rates and levels of enthusiasm, talent and commitment. The message I take away is that our talent deserves more and will demand more. We are dealing with an impatient, ambitious generation that will not submit meekly to systemic inefficiency and regularise cynicism and apathy. Sport is about challenges and no self-respecting athlete expects all obstacles in her or his path to be removed. That said, systems must provide athletes the tools to overcome challenges rather than placing additional ones in their way. World-class infrastructure, information, coaching knowledge and science are the building blocks that we will need in place. When these are generally available, it will inc- rease the responsibility and demands on the athlete in a healthy and positive way.
Today, we are fortunate to have indigenous role-models across a wide variety of sporting disciplines. They come from different parts of the country and across the socio-economic spectrum. There are more and more youngsters seeing "someone like me" aspire, succeed and achieve in the same way I did watching Jaspal Rana. Thanks to the perseverance and personal drive of these athletes and their coaches we are in this enviable position. In many ways, this was going to be the tougher battle to win: building the perception that sport is worth it for a country such as ours and that our athletes deserve our support is not easy. We have travelled quite far down that path. Designing and building the systems of excellence will now demand our attention. These can be constructed with a degree of confidence, commitment and conviction that has never before been as strong. Knowing full well that there is no silver bullet that will provide an immediate solution, I am extremely optimistic about what the future holds for Indian sport.
(The author is India's first individual gold medal winner in Olympics. He achieved the feat in Beijing 2008)