2 dead in Kaziranga eviction drive, minority body calls for highway blockade
Two people, including a woman, died in police firing during a drive to evict illegal settlers, many alleged Bangladeshis, near the 430 sq km Kaziranga National Park Monday morning.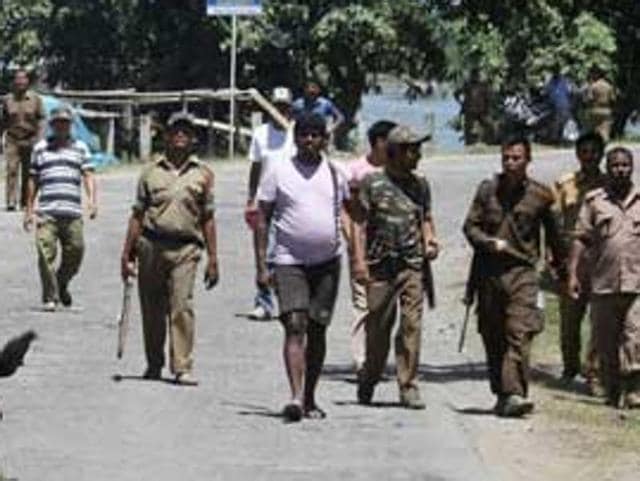 Updated on Sep 19, 2016 12:17 PM IST
Two people, including a woman, died in police firing during a drive to evict illegal settlers, many alleged Bangladeshis, near the 430 sq km Kaziranga National Park on Monday morning.
The All Assam Minority Students' Union (AAMSU) termed the eviction drive inhuman and called for a highway blockades across the state in protest.
The Gauhati high court had in October last year ordered eviction in three villages – Bandardubi, Deosursang and Palkhowa – near KNP. The area, about 200 km east of Guwahati, falls in Nagaon district.
The eviction was scheduled for Wednesday, but the Nagaon district authorities advanced it reportedly to prevent the settlers' resistance from building up.
District officials said more than 1,000 security personnel were sent to Bandardubi and adjoining Deosursang and Palkhowa areas to help in the eviction drive. While a few Assamese families had shifted ahead of the drive, others tried to prevent the eviction team from entering their area.
Two people, identified as Anjuma Khatun and Fakhruddin, died in the melee that ensued. At least 10 others were injured.
"When the situation turned violent, we resorted to firing tear gas shells but we did not fire a single shot," a police officer said, declining to be quoted.
Shamsher Singh, deputy commissioner of Nagaon district, said stampede killed the two people. "The people were instigated by a group. Their leaders may be arrested if a probe links them to the death of the two people.
Officials said they had instructions to evict some 190 families in the area where section 144 had been imposed as a precautionary measure.
The eviction, Assam forest minister Pramila Rani Brahma said, is in the greater interest of the wildlife and biodiversity of Kaziranga.
"Besides, the eviction is being carried out as per the order of the High Court. The indigenous people with land-holding papers had moved out much before the eviction drive but a section is creating an adverse environment to cause trouble, but we have asked the authorities to take care so that people are not hurt," health minister Himanta Biswa Sarma said.
He added that the government would provide compensation to the people within 40 days of the eviction. "Those who do not have patta land too would be compensated after considering all the factors."
But peasant leader Akhil Gogoi said the people should have been allowed to remain until an alternative arrangement was made. "Where will these people go? The government is trying to create a Singur-like situation near Kaziranga," he said.
Assam Congress president Ripun Bora, who had visited the area, said the eviction was inhuman. "We understand Kaziranga's natural wealth needs protection, but not at the cost of human lives and misery. We condemn the eviction and demand alternative settlement for the people."
Bandardubi resident Nurul Islam said they never knew they were illegal settlers. "After living here for 60 years, we are suddenly asked to go somewhere else. What is the guarantee that we will not be hounded as Bangladeshis wherever we are made to relocate?"
The AAMSU indicated the drive was specifically targeted at the minority community. "We have asked our supporters to block highways to protest the inhuman eviction," a union spokesperson said in communique.
The evicted villagers, mostly Bengali-speaking Muslims, said they were descendants of paddy farmers the British had settled more than a century ago along Assam's river banks and water bodies to "grow more rice".
Forest officials said encroachment on the fringes of Kaziranga has been a major hurdle to checking poaching of rhino and other animals in the park. Encroachers of suspect nationality are also involved in illegal fishing inside Kaziranga wetlands and felling of trees.
Declared a protected area in 1905 when there were barely a dozen one-horned rhinos alive, Kaziranga was upgraded to a national park in 1974. Conservation efforts led to the increase in the population of rhinos, tigers and wild buffalos made the government expand Kaziranga's buffer zone.
Over the years, 429.49 sq km were added to Kaziranga across six parts. The first, fourth and sixth additions to the park are under heavy encroachment of suspected illegal migrants.
Close Story
Personalise your news feed. Follow trending topics