Muslim man tied to tree, beaten to death for being in love with Hindu woman
May 30, 2017 06:59 AM IST
Police said three people have been arrested for the assault on Mohammad Shalik and an FIR has been filed against unnamed people
Villagers in Jharkhand's Gumla district allegedly tied a 20-year-old Muslim man to a tree and thrashed him for hours for being in love with a Hindu woman, leading to his death, police said on Friday.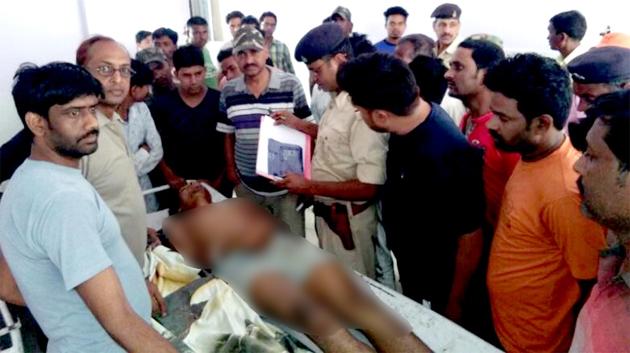 The man – identified as Mohammad Shalik, a resident of Raza Colony in Gumla town – was allegedly in a relationship with a Hindu woman of a nearby village, Soso, for more than a year, sources said.
The girl allegedly called the boy to meet her at Gumla town for the Ram Navami procession on Wednesday. Fearing trouble, Shakil initially refused but finally went to meet her on a scooty and dropped her home, police said.
It is then that a group of neighbours saw Shalik and surrounded him, tied him to a tree and assaulted him for hours, the woman was quoted as saying by police. He succumbed to his injuries on Thursday.
Police said they arrested three people and lodged an FIR against unnamed people. "Though investigation is on, we were told by the villagers that the boy had been asked earlier not to meet the girl and never visit the village," said Gumla superintendent of police Chandan Kumar Jha.
The incident comes amid rising communal tensions in the state following a slew of controversial initiatives in neighbouring Uttar Pradesh. Activists have cried foul against Jharkhand's decision to create anti-romeo squads and seal illegal slaughterhouses, saying that the moves unfairly targeted the Muslim community.
Earlier this week, a Muslim man was lynched by a group of alleged cow protection vigilantes in Rajasthan's Alwar when he was transporting cattle. A group of men also forced a couple to shave their heads in Uttar Pradesh, one of a similar string of alleged moral policing incidents.
Shalik's murder triggered tensions in Gumla town but police thwarted any violence by deploying hundreds of personnel. "The situation is under control," Jha added.
Shalik's father Mohammad Minhaj said two people came to his house on Wednesday night to tell him that his son was being beaten and tied to rope at Soso village. "I informed police immediately. When we reached at the village, we found my son was critically injured," he said. He was taken to Sadar hospital immediately. The hospital authority referred him to Rajendra Institute of Medical Sciences (RIMS) in Ranchi but he died on the way.