3 yrs of Modi govt: Question of jobs a major challenge confronting Centre
May 27, 2017 07:33 PM IST
Three years after Narendra Modi took over as Prime Minister and promised jobs, it is difficult to say whether he has delivered because of a lack of credible figures and surveys.
When Prime Minister Narendra Modi stormed to power in 2014, he promised 10 million jobs and a roadmap to curb unemployment in India, especially among the youth.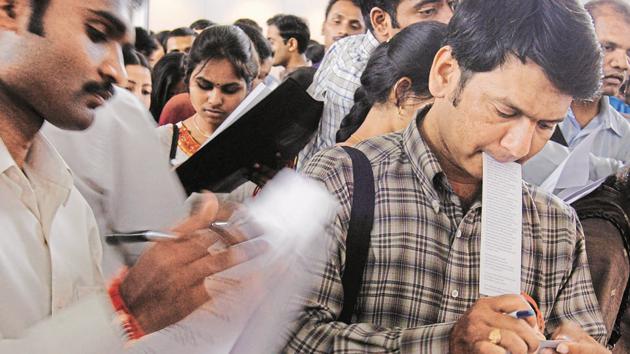 Three years later, it is difficult to say whether he has delivered because of a lack of credible figures and surveys: The numbers are either unreliable or dated.
There are two major indices to estimate and understand patterns of unemployment in India.
The first is the number of jobs created, as measured by an enterprise-level survey. Labour Bureau's Quarterly Employment Survey fills that gap. The numbers portray a bleak picture: The jobs created in 2015 and 2016 were the lowest since 2009. But one shouldn't read too much into this data, a Mint analysis warns: The methodology and design of this survey are questionable, only eight non-agricultural sectors are captured, and hence, of little use.
The second is the unemployment rate, which is measured by a household-level survey. Labour Bureau estimates the rate to be 5.0% in 2015-16, almost similar to 4.9% in 2013-14.
While the numbers are inadequate, there is no anecdotal evidence either for the government to claim any success— think of the snowballing panic in India's showcase IT sector over job losses.
Public opinion echoes this. The latest "Mood of the Nation 2017" survey conducted by Lokniti-CSDS-ABP -- based on a nationally representative sample that adequately captures India's demographic diversity – recorded two in three respondents as saying that employment opportunities had either "decreased over the last two to three years" or "remained the same".
Only 23% reckoned that more jobs are available than before, which is seven percentage points less compared to UPA-2's regime in 2013 when 30% expressed the same view.
Clearly, the question of jobs is one of the major challenges confronting the Modi government.
BJP president Amit Shah appeared to underline the problem during the NDA's three-year celebration when he said on Friday that it wasn't possible to provide jobs to a country of 1.25 billion people, and that the government was pushing for self-employment.
But several other challenges remain, primary among them the 85% of the workforce that earns a paltry salary in insecure, unskilled jobs. How big is the problem? Let's take stock.
How many people are employed in the workforce?
Around 440 million in 2015-16, according to Labour Bureau estimates, nearly the same as 438 million in 2013-14.
How many people are unemployed?
As per the India Employment Report 2016, around 117 million people need to be absorbed into new and more productive jobs. Here is the breakup: 13 million are openly unemployed, 52 million are all women who are "not in the labour force but would be available for work if there were adequate opportunities for productive employment". The third chunk is another 52 million in disguised unemployment, which means they work jobs that require far fewer than the number of workers hired. As a result, productivity wouldn't be hurt if some workers were withdrawn.
How many people enter the workforce every year?
On an average, 6 to 8 million young people will enter the labour force each year for the next decade, estimates a paper published by the National Institute of Public Finance and Policy (NIPFP) paper titled "Employment, Education and the State", authored by Dr. Sudipto Mundle.
Redefining the problem
The vast majority of India's working households, the NIPFP paper says, are "still living precariously on the brink of survival." As per data from the Labour Bureau, 85% of India's workers in 2015-16 earned less than or up to Rs. 10,000 per month. Regular formal employment in the organised sector—the best quality jobs— account for just 9% of the workforce. This is why the paper phrases the challenge of employment as the "question of whether or not it will be possible within the next decade or so to create enough productive jobs so that this huge workforce can earn a decent living."
Is the workforce ready for high skilled jobs?
Not really. Large sections of the educated workforce have little or no job skills, making them unemployable. As per the National Skill Development Mission Document, India currently faces a "severe shortage of well-trained, skilled workers." Only 2.3% of the Indian workforce has undergone formal skill training. Compare that to 68% in the UK, 75% in Germany, 52% in the USA, 80% in Japan and 96% in South Korea. The government has taken initiatives, but more needs to be done.