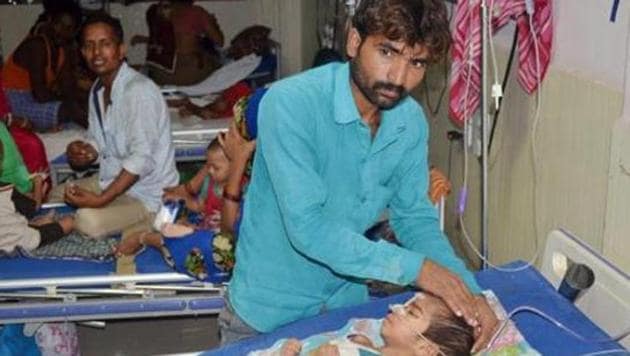 67 children die at Gorakhpur's BRD Hospital in five days
The majority of deaths were reported from the hospital's neonatal intensive care unit (NICU), paediatric intensive care unit (PICU) and encephalitis wards.
Gorakhpur, Hindustan Times | By Abdul Jadid
UPDATED ON NOV 06, 2017 09:04 PM IST
At least 67 children died at Gorakhpur's government-run Baba Raghav Das (BRD) Medical College and Hospital between Wednesday and Sunday, according to official records.
The spurt in deaths last week brought the focus back on eastern Uttar Pradesh's largest hospital, which was in the middle of a controversy after 61 children died in a week in August because of an alleged disruption in oxygen supply.
The latest toll includes 31 newborns. Hospital records show 13 children died on Wednesday, 12 on Thursday, as many as 18 on Friday and a dozen each on Saturday and Sunday.
The majority of deaths were reported from the hospital's neonatal intensive care unit (NICU), paediatric intensive care unit (PICU) and encephalitis wards.
In addition to acute encephalitis syndrome (AES) and Japanese encephalitis (JE), an east UP epidemic that breaks out each monsoon, the other leading causes of child deaths are malnutrition, diarrhoea, pneumonia, infections, cardiovascular complications and poor metabolic conditions.
BRD Medical College principal PK Singh said most patients are from far-flung areas and they came to the hospital when their condition turned extremely critical.
This is the only hospital catering to 15 districts of east UP, besides Bihar and Nepal.
"The number of deaths has come down as compared to previous years as we are putting in best efforts to save lives. Due to increase in the number of doctors, shift duty has improved resulting in better care of ailing children," he said.
As many as 460 deaths were reported in October this year, compared to 586 in the corresponding month last year. A total of 418 and 433 deaths were reported in August and September, respectively.
The deaths continued even after the BJP-led government of chief minister Yogi Adityanath upgraded facilities at the hospital. The government appointed 20 more doctors and increased the number of baby-warmer devices from eight to 20.
Construction of a 500-bed encephalitis ward, the foundation stone of which was laid by former chief minister Akhilesh Yadav, has started.
The opposition Samajwadi Party alleged that the government's measures were too little to address the problem.
Party spokesman Sunil Yadav said: "It's sad to know and say that our government is laidback and not adhering to the cries of the common man ... Rather than running around temples, Adityanath should build well-equipped hospitals and centres for children."
A government-appointed committee, investigating the August deaths, recommended criminal action against then principal Rajiv Mishra, head of the anaesthesia paediatric department Satish, in-charge of the 100-bed AES ward Kafeel Khan and Pushpa Sales, the private firm contracted to supply oxygen cylinders.
But the official report by the chief secretary denied lack of oxygen as the cause of death.
An FIR was lodged against nine people at Hazratganj police station in Lucknow on August 23. All the accused were later arrested by police.
Close