PDP-BJP coalition in Jammu and Kashmir had more misses than hits
Updated on Jun 19, 2018 09:46 PM IST
The PDP-BJP coalition came to power in Jammu and Kashmir in 2015. After a 40-month-long rule, the BJP pulled out of the alliance with the PDP because of worsening "terrorism and violence" in the state.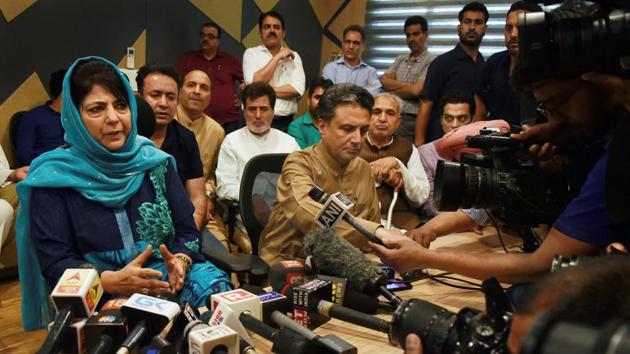 Hindustan Times |
Ashiq Hussain
Forged as "an alliance of extremes", the PDP-BJP alliance was meant to bridge the chasm between Muslim-majority Kashmir and predominantly-Hindu Jammu region. But, the power-sharing pact was rocked by spasms of flashpoints and conflicts, pushing the allies to brink.
Here are the key turning points in their 40-month-long rule:
The release of Masarat Alam: In March 2015, a few months after PDP-BJP coalition came to power, then chief minister Mufti Mohammad Sayeed ordered the release of hardline separatist leader Masarat Alam. His olive branch to secessionists invited the BJP's backlash.Under intense pressure, the state government arrested Alam and charged him with 'sedition' and 'waging war against the state'.
Modi's snub: Addressing a public rally in Srinagar in November 2015, Prime Minister Narendra Modi announced an economic package of ₹80,000 crore but delivered a testy political message to Mufti, saying "I don't need advice or analysis from anyone on Kashmir". He cold shouldered PDP's overtures for a political message and need for dialogue with Pakistan.
Death of Mufti M Sayed: In January 2016, Mufti passed. That put his daughter Mehbooba at the helm but changed the dynamics of the coalition and also led to internal upheavals in PDP with a powerful section resenting the ties with BJP.
Killing of Burhan Wani: In July 2016, the killing of Hizbul Mujahideen commander Burhan Wani, the poster boy of Kashmir's local militancy, plunged Kashmir into a violent turmoil. Widespread clashes leading to killings of around 100 people and a shutdown for most of the summer pushed PDP-BJP government to the edge and stoked a fresh wave of armed insurgency in the Valley.
Also read: LIVE: J&K Governor NN Vohra forwards report to President for imposition of Governor's rule in state
Fracas over Article 370: In July 2017, Mehbooba upped the ante against the court petitions by BJP supporters demanding abrogation of special constitutional status of Jammu and Kashmir and also the Permanent Resident Act (35A) — a provision that empowers the state's permanent residents. She rallied the opposition National Conference behind her, saying " there will be no one to shoulder the Indian flag in Kashmir if the Article 370 was tinkered with ". Her stand raised the BJP's hackles.
NIA raids: In July 2017, the National Investigation Agency (NIA) arrested seven separatist leaders including Syed Ali Geelani's son-in-law Altaf Shah in alleged militancy funding case. Later two youth besides son of Hizbul Mujahideen chief Syed Salahuddin, Syed Shahid Yousuf and a businessman were also arrested – a development that didn't go well with PDP.
The Centre's interlocutor: In October 2017, the Modi government appointed former Intelligence Bureau director Dineshwar Sharma, as its representative to "initiate and carry forward a dialogue" with key stakeholders. On his recommendation, the Mehbooba government announced amnesty for hundreds of first-time stone-pelters – a move that backfired and drew criticism from BJP.
Kathua rape and murder case: In January 2018, the rape and murder of an eight-year-old nomadic girl in Kathua in Jammu region took a political and communal turn when the right-wing Hindu Ekta Manch demanded the release of accused. A livid Mehbooba forced the BJP to sack two of its ministers who had supported the agitation in favour of the accused. The episode widened the cracks in coalition.
Personalise your news feed. Follow trending topics