Mufti's demise leaves huge void in politics: PM , Prez condole Sayeed's death
Updated on Jan 07, 2016 10:48 AM IST
Prime Minister said Mufti's demise leaves a "huge void in the nation and in J&K, where his exemplary leadership had a major impact on people's lives"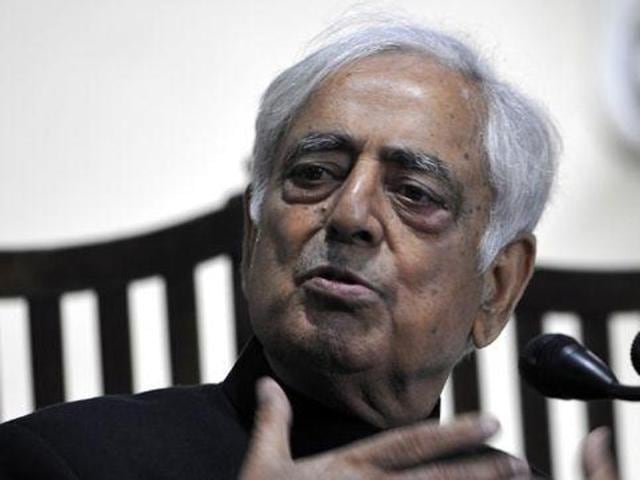 Prime Minister Narendra Modi on Thursday condoled the death of Jammu and Kashmir Chief Minister Mufti Mohammad Sayeed, saying his demise leaves a huge void in the nation and that the leader who provided a healing touch would be missed.
"Mufti Sahab's demise leaves a huge void in the nation & in J&K, where his exemplary leadership had a major impact on people's lives. RIP," tweeted Prime Minister Narendra Modi.
President Pranab Mukherjee expressed his heartfelt condolence.
"Heartfelt condolences on the passing away of J & K CM Mufti Mohammad Sayeed ," he wrote in a tweet.
"Contribution of Mufti Mohammad Sayeed to J & K and India through long years of public service will be always remembered ," the president added.
Sayeed, 79, is survived by his wife, three daughters including PDP President Mehbooba Mufti, and a son. Sayeed's body would be flown to Srinagar where it will be kept for people to have the last glimpse of their leader.
He is likely be buried in his ancestral village in South Kashmir.
Read More | Mehbooba Mufti set to take over as next CM of Jammu and Kashmir
Home Minister Rajnath Singh said he was deeply pained to learn of J&K CM Shri Mufti Mohd. Sayeed's demise.
"The demise of Shri Mufti Sayeed is an irreparable loss to Jammu and Kashmir. His departure has also left a big void in national politics," tweeted Rajnath Singh.
Former chief minister Omar Abdullah expressed his shock and sympathy at the demise of Peoples Democratic f Mufti Mohammad Sayeed.
"Just heard the terrible terrible news of Mufti Sahib's passing away. I'm shocked & deeply saddened. May he rest in peace,tweeted Abdullah.
"My heart felt sympathies to Mrs Syed, Mehbooba & the entire family in this most difficult of times. My & my family's prayers are with them," he added.
"A veteran politician, he had a long & distinguished political career. His loss will be deeply mourned in J&K and across the country," tweeted Congress Vice President Rahul Gandhi.
Congress President Sonia Gandhi too expressed shock and grief . Extending her condolences to Mufti Sayeed's wife and other family members, Gandhi said that in his death, the state of J&K as indeed the entire nation had lost a great leader.
Various state chief ministers also took to Twitter to pay their respect.
Read More | No threat to J-K coalition if Mehbooba becomes CM: BJP
Read More | Mufti Mohammad Sayeed: Much more than Delhi's man in Kashmir
Read More | Key political milestones in Mufti Mohammad Sayeed's life
Close Story
Personalise your news feed. Follow trending topics