Latest from hizbul mujahideen
While the US has blacked listed all above on charges of terrorism in the past decade and before, China is in fact supporting terror against India by placing hurdles before the 1267 committee and shielding the mass murderers from facing justice.


Published on Aug 13, 2022 02:05 PM IST
The action comes just two days before India celebrates its 75th Independence Day.


Updated on Aug 13, 2022 11:50 AM IST
According to Union Ministry of Home Affairs statistics, a total of 82 foreign terrorists were operating in Jammu and Kashmir as on July 5, 2022, while there were 59 active local terrorists.


Published on Jul 10, 2022 03:53 PM IST
In Kulgam, a terrorist identified as Rasiq Ahmed Ganie, resident of Shouch Kulgam of proscribed terror outfit Hizbul Mujahideen was killed and his body was retrieved from the site of encounter.


Published on Jun 11, 2022 10:05 PM IST
At least 11 terrorists have been killed in Jammu & Kashmir over the past 10 days. This follows the killings of at least seven civilians – including migrant workers and Kashmiri Pandits -- between May 26 and June 3.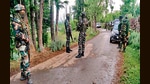 Published on Jun 08, 2022 12:33 AM IST