Abducted, drugged, raped and killed: Kathua girl's four days of horror
Updated on Apr 13, 2018 02:30 PM IST
The 8-year-old girl in Kathua was allegedly abducted, drugged and held in a temple while she was raped repeatedly because the main accused wanted to scare the Bakarwals, a nomadic community, and make them move out of the village, the charge sheet filed by crime branch said.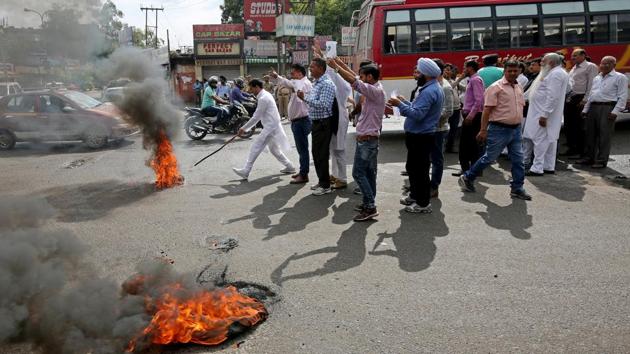 The alleged gang rape and murder of an eight-year-old girl in Jammu region's Kathua district has horrified the nation. The charge sheet filed by the crime branch of the Jammu and Kashmir police lists the brutality she was subject to from her abduction on January 10 to her murder on January 14.
Here's what the charge sheet says:
1) The girl who belonged to the nomadic Muslim Bakarwal community, was abducted on January 10 in Jammu region's Kathua district
2) She was out grazing horses near her home, her daily chore.
3) The girl was held in a temple run by a retired revenue department official Sanji Ram, drugged repeatedly and subjected to multiple rapes, including gang rape.
4) Ram planned the abduction because he wanted to scare the Bakarwals (a nomadic community) and make them move out of the village in Kathua.
5) He allegedly enticed his nephew, a school dropout, into committing the crime.
6) Apart from these two, the other accused are Sanji Ram's son Vishal Jangotra, a friend of the nephew, a police sub-inspector, a head constable and two special police officers.
7) The nephew allegedly told Sanji Ram's son, Vishal Jangotra, in Meerut over the phone about the abduction of the girl and asked him to come to Kathua "if he wanted to satisfy his lust".
8) The policemen helped destroy evidence and cover up the crime in exchange for bribes.
9) On January 14, the nephew strangled her to death and bludgeoned her with a stone to make sure she was dead.
10) Before she was killed, one of the accused asked his accomplices to "wait" as he also wanted to rape the girl.
Personalise your news feed. Follow trending topics