Activists Rao, Ferreira and Gonsalves brought to Pune after arrests over alleged Maoist links
Aug 29, 2018 10:30 AM IST
While Varavara Rao, Ferreira and Gonsalves have been brought to Pune from Hyderabad, Thane and Mumbai, Navlakha and Bhardwaj approached the courts to oppose their transit remand.
Three of the five prominent lawyers and activists arrested by Pune police for alleged Maoists links in raids across five states on Tuesday were brought to Pune on Wednesday while the transit remand of two others faced a legal challenge.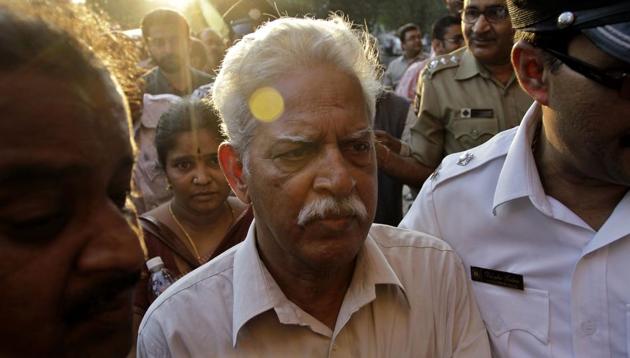 Lawyer and trade union activist Sudha Bhardwaj, revolutionary poet P Varavara Rao, civil rights activist and journalist Gautam Navlakha, and lawyers and activists Arun Ferreira and Vernon Gonsalves were arrested and charged with criminal conspiracy, creating fear and enmity between various groups, and under the Unlawful Activities (Prevention) Act. The arrests were part of an investigation into the violence that rocked Bhima Koregaon in Maharashtra on January 1 during the bicentennial celebration of a British-era war.
One police team also searched the residence of Father Stan Swamy in Ranchi although he was not arrested in the absence of "evidence," a senior official said.
"We have arrested five persons today for their association with the Maoist movement and support to Elgar Parishad, which triggered violence the next day," said Pune joint commissioner of police Shivaji Bodkhe.
While Varavara Rao, Ferreira and Gonsalves have been brought to Pune from Hyderabad, Thane and Mumbai, Navlakha and Bhardwaj approached the courts to oppose their transit remand.
The Delhi high court on Tuesday stayed Navlakha's transit remand for a day, ordering him to stay in his house with two guards posted outside. He was allowed to meet his lawyers.
Stopping the police from taking Navlakha to Pune before they heard the matter first thing on Wednesday, a bench of justice S Muralidhar and justice Vinod Goel said that the transit remand application was in Marathi and it was very difficult to make out the details of the case or understand the allegations.
There was drama in the case of Bhardwaj, who was arrested from her home in Faridabad, with her lawyer alleging that the Pune police of not following the orders of the Punjab and Haryana high court.
"Our transit bail application was dismissed. We had informed the chief judicial magistrate that the high court in Chandigarh intervened and passed an interim order that Pune police won't take her under custody and she will be under house arrest for three days," her advocate Sanjeev Choudhary said, reported ANI.
"The matter will once again be taken up before the high court in Chandigarh after three days. Still, the Pune police arrested her. It's a complete violation of the order of the high court," he added.
Meanwhile, a relative of Varavara Rao accused Pune police of "forcing" him and his wife to sign a 'punchnama' - a document prepared by police detailing the investigation scene and signed by respectable witnesses, in Marathi.
"Both Rao and his wife Hemalatha don't know Marathi... they were forced to sign on the punchnama written in Marathi," journalist N. Venugopal, the son-in-law of Rao, told the media in New Delhi.
"Without any search warrant, they (police) entered his house, snatched away cell phones. They also disconnected the land line phone and intercom and kept Rao incommunicado for eight hours," he alleged.
The near-simultaneous police raids, led by Pune (urban) police, began at 6 am in Hyderabad, Delhi, Faridabad, Mumbai, Thane and Ranchi and continued till afternoon. Police said the operation was part of a probe into an event called Elgar Parishad in Pune on December 31, 2017, when various activists and Dalit organisations came together.
The next day, violence broke out at Bhima Koregaon, about 40 km from Pune, as tens of thousands of Dalits celebrated the 200th anniversary of an 1818 war between the British army, manned mainly by Dalits, and the state's Peshwa rulers, who were notorious for oppressive caste practices. Widespread stone pelting left one person dead and four injured. Protests swept Maharashtra over the next two days, bringing the state capital Mumbai to a virtual standstill.
The arrests were condemned by several opposition parties.
"There is only place for one NGO in India and it's called the RSS (Rashtriya Swayamsevak Sangh). Shut down all other NGOs. Jail all activists and shoot those that complain. Welcome to the new India. #BhimaKoregaon," tweeted Congress chief Rahul Gandhi.
"No human rights activist should be arrested without a proper case. I defend the rights of everybody, more particularly human rights protestors. They are selfless NGOs, activists and obliged to fight in the enveloping darkness in dictatorial tendencies," Congress spokesperson S Jaipal Reddy said. The Communist Party of India (Marxist) said the police raids constituted "a brazen attack on democratic rights and civil liberties".
According to the police, the names of those arrested on Tuesday cropped up during the interrogation of five persons arrested in June for Maoist links as part of the same investigation. These five were activist Sudhir Dhawale, lawyer Surendra Gadling, activist Rona Wilson, former Prime Minister's rural development fellow Mahesh Raut, and retired professor Shoma Sen. They were arrested for allegedly having close Maoist links.
"We have recovered some documents, laptop, pen drive, hard disk and other material. The scrutiny of the seized items is on," said a senior official on condition of anonymity.
Interestingly, Pune (rural) police has charged two Hindu right-wing leaders, Milind Ekbote and Shambhaji Bhide, for the violence on January 1 in Bhima Koregaon. Ekbote is currently out on bail while Bhide has not yet been arrested. The investigation into the Elgar Parishad event on December 31, 2017 is being conducted by the Pune (urban) police.
The arrests were opposed by several activists. "The arrests are a dangerous sign of a government that fears it is losing its mandate and is falling into panic," author Arundhati Roy told PTI. Historian Ramachandra Guha called the action "absolutely chilling" and demanded the intervention of the Supreme Court to stop this "persecution and harassment" of independent voices.
"Exciting news! Hindustan Times is now on WhatsApp Channels
Subscribe today by clicking the link and stay updated with the latest news!"
Click here!
Get
Latest India News
along with
Latest News
and
Top Headlines
from India and around the world