After Allahabad, Shimla could be renamed; Himachal govt wants to call it Shyamala
The move to consider changing Shimla's name comes days after the Uttar Pradesh government renamed Allahabad city to Prayagraj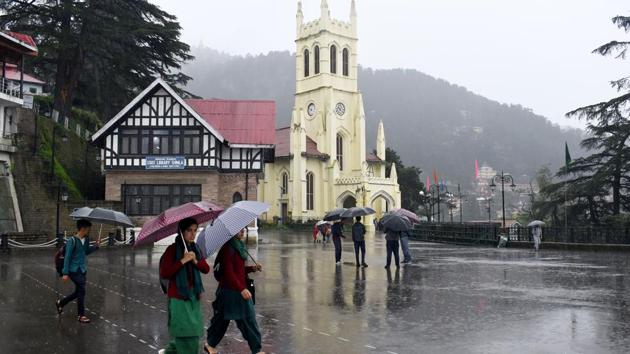 Updated on Oct 21, 2018 12:09 AM IST
The Himachal Pradesh government is considering renaming state capital Shimla to Shyamala, a demand made by right-wing Hindu groups as part of efforts to remove "symbols of British rule" .
"Before the British arrived, Shimla was known as Shyamala. My government will seek public opinion on the demand for its renaming," chief minister Jai Ram Thakur said on the sideline of Dussehra festivities at Jakhu temple Friday evening.
The demand for changing Shimla's name gained momentum after the Uttar Pradesh government renamed Allahabad as Prayagraj.
State health minister Vipin Parmar said that "there was no harm" in changing the name of Shimla, the summer capital of India under the British from 1864 to Independence, and landmarks associated with the British.
The Vishwa Hindu Parishad (VHP) had long demanded the government change the town's name. However, in 2016, then chief minister Virbhadra Singh had rejected renaming Shimla, saying it was an internationally-famous tourist destination.
"Slavery can either be physical, mental or cultural. Sticking to names given by oppressors is sign of mental slavery. Changing names of town is a small but significant step," VHP state president Aman Puri said, adding "The country had done away with several symbols of British rule after independence, but in Himachal, several names remain of the colonial time."
The British could not pronounce Shyamala so they changed the name to Shimla, he alleged.
The VHP has also been seeking the state tourism department-run Hotel Peterhoff be named after sage Valmiki, author of the epic Ramayana. Peterhoff, which was the residence of the governor generals and viceroys of British India, had housed the Punjab high court after independence and was the venue for the trial of Nathu Ram Godse for assassinating Mahatma Gandhi. It had later served the state Raj Bhavan before being gutted in a fire and rebuilt in 1991.
It has also been demanding Dalhousie be renamed after famous revolutionary leader Subhas Chandra Bose and Nurpur town should be named after 1857 war of independence warrior Ram Singh Pathania, instead of Mughal empress Noor Jahan.
The opposition Congress however ridiculed plans to change Shimla's name. "Instead of changing name of the town, the government should focus on resolving the problems in the town as well as in the state. It should work for peoples' welfare... name change won't help," said Congress state general secretary and chief spokesman Naresh Chauhan.
Topics
Close Story