After Hollande clarification, no room for doubt about Rafale: Rajnath Singh
Union home minister Rajnath Singh accused the Congress of trying to gain political mileage over the Rafale issue with an eye on Lok Sabha elections next year.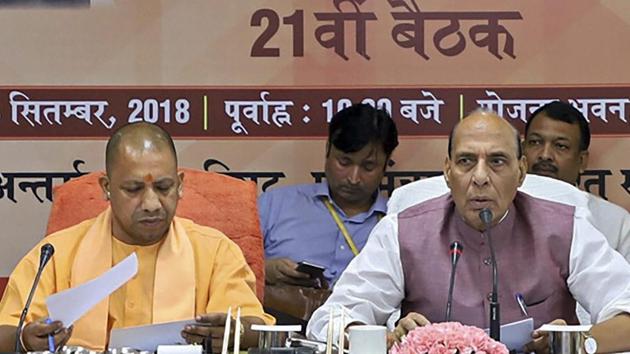 Published on Sep 24, 2018 05:09 PM IST
Lucknow |
Press Trust of India
Under attack from the Congress over the Rafale fighter aircraft deal, Union home minister Rajnath Singh on Monday said that following "clarifications" from former French president Francois Hollande, there is no room for any doubt in the matter.
He also accused the Congress of trying to gain political mileage over the issue with an eye on Lok Sabha elections next year. "The opposition does not have any issue left, so it is raking up the Rafale deal issue," Singh told reporters after a meeting of the Central Zonal Council in Lucknow.
"After clarifications from Hollande, there is no room for any doubt about the deal. The Congress is making it an issue to gain political mileage in 2019 Lok Sabha polls," Singh said.
Hollande, who was French president when the Rs 58,000 crore deal was announced, was quoted as saying by French publication 'Mediapart' that France was given "no choice" on selection of the Indian partner for Dassault and the Indian government proposed the name of Reliance as offset partner for the French aerospace giant.
AFP reported that Hollande told it on the sidelines of a meeting in Canada on Friday that France "did not choose Reliance in any way". When asked whether India had put pressure on Reliance and Dassault to work together, Hollande said he was unaware and "only Dassault can comment on this".
The Centre on Saturday had asserted that it did not have any role in the selection of Reliance Defence as a partner for Dassault while France said it was in "no manner" involved in the choice of any Indian industrial associate for the contract.
On Kashmir issue, Singh said, "I think the matter will be resolved. The problem is not increasing. We are ready to talk to everyone. As far as terrorism is concerned, all security agencies are working in coordination."
"Terrorism in Kashmir is Pakistan-sponsored," he said.
About the issues raised in the zonal council meeting, the home minister said that out of 22 points, 20 have been resolved, adding in the last four years, in 12 meetings, 680 issues were discussed of which 428 were resolved.
Besides Uttar Pradesh and Uttrakhand Chief Ministers Yogi Adityanath and Trivedra Singh Rawat respectively, the meeting was attended by representatives from Chhattisgarh and Madhya Pradesh as well.
The Central Zonal Council comprises Uttar Pradesh, Madhya Pradesh, Chhattisgarh and Uttarakhand. The council's meeting aims at addressing common concerns of the participating states and settling cross-border concerns, if any.
Five zonal councils — central, western, northern, southern and eastern — were established under the States Reorganisation Act, 1956.
Close Story