After Oppn's attack in RS, govt says Pak sponsoring Kashmir violence
The government refuted the Congress' charge that Jammu and Kashmir was disturbed because of the PDP-BJP coalition government failed to handle the situation, and blamed Pakistan as the "sole reason" and sponsor for the violence.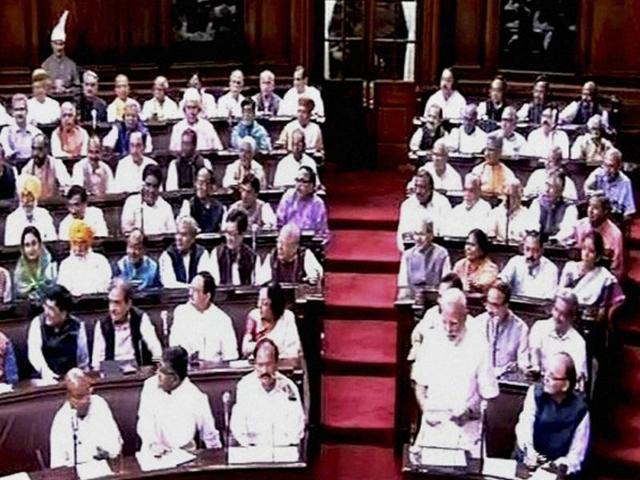 Updated on Jul 19, 2016 11:30 AM IST
The government refuted the Congress' charge that Jammu and Kashmir was disturbed because of the PDP-BJP coalition government failed to handle the situation, and blamed Pakistan as the "sole reason" and sponsor for the violence.
"To think that because BJP-PDP coalition is ruling there and that's why there is this problem, is not correct," finance minister Arun Jaitley said during a debate in the Rajya Sabha. "Pakistan never reconciled the fact that Jammu and Kashmir is an integral part of India," he said, adding that it was the sole reason for unrest in the hilly state.
Violent protests have rocked Kashmir since July 9 following the killing of Hizbul Mujahideen militant Burhan Wani and two of his associates in an encounter with security forces. In the ensuing clashes with security forces, 39 people including a cop have been killed, while nearly 3,200 people including 1,500 security force personnel have been injured.
Read: As it happened: Debate in Rajya Sabha over Kashmir unrest
On Monday, home minister Rajnath told the Rajya Sabha: "Whatever is happening in Pakistan is totally Pakistan-sponsored. The name of the nation is Pakistan but their actions are na-Pak (impure)."
Singh said the central government ordered the security forces in Jammu and Kashmir to exercise maximum restraint while tackling the angry mobs that took to streets following Wani's killing. "Forces were directed to use non-lethal weapons in case of violence," he added.
Responding to Leader of Opposition Ghulam Nabi Azad on the issue earlier, Jaitley defended security forces for their action against separatists and terrorists, saying no sovereign country can allow attacks on its forces and interests, but however, accepted that excessive use of force should be avoided.
The ministers' remarks came after Opposition parties, cutting across political lines, slammed the Centre over excessive use of force in Jammu and Kashmir, saying bullets can't bring a solution to the current unrest in Kashmir.
During the discussion on the latest Kashmir crisis in the Rajya Sabha, the Opposition also urged the government to immediately start a dialogue process with the Kashmiri people.
Read: 'Have faith in all parties': Modi sets the tone as monsoon session begins
Congress leader Karan Singh said: "I have spent 70 years watching developments in J&K. This time, there has been unprecedented outburst of anger and frustration. If young people are blinded, our people are blinded. If we say they are part of India, then India must share their pain."
Samajwadi Party leader Naresh Agarwal asked the government to understand the sentiments of the Kashmiri people. "You can't stop a revolt with the guns. Our leader Mulayam Singh Yadav has said if you go on a war against Pakistan, we will stand by you. But if there is a need to change policy, you have to do it with a brave heart," Agarwal said.
One by one, the Opposition leaders slammed the government over its handling of the Kashmir situation and questioned why it was not following the political process the Atal Bihari Vajpayee government started.
JD(U) leader Sharad Yadav said: "In Atalji's government there was a political effort. Why is there so much difference between Vajpayee's government and this government?"
Read: Uproar in Rajya Sabha over price rise, Dalit rights
CPI(M) general secretary Sitaram Yechury also reminded the government about the Vajpayee government's approach. "Narasimha Rao had said that sky is the limit for autonomy. Vajpayee spoke about humanity. Where is that humanity?"
The Left leader also took potshots at the government over its flip-flop on the Pakistan policy. "Sometimes we speak about 56-inch chest, and sometimes, we fly down to Pakistan to taste biriyani," Yechury said, referring to Prime Minister Narendra Modi's unscheduled visit to Lahore to meet Pakistani Prime Minister Nawaz Sharif.
While all parties assured the government of their support and stressed on the need for security forces, they also expressed concern over the use of excessive force in the Valley during the last two weeks.
"Kashmir is not about its soil, it is all about the soul of Kashmir. I urge the government to please protect the soul of Kashmir even when there is a need for hard policing," Trinamool Congress's Derek o'Brien said.
BJD, CPI(M) and other parties also asked the government to probe into allegations of excessive use of force.
"Leader of Opposition, Ghulam Nabi Azad talked of use of disproportionate force. The government must look into it. The youth and intelligentsia are alienated. It is unrealistic to simply blame everything on foreign hand. We are facing a serious problem of trust deficit. There is a need to introspect," Karan Singh urged.
Yechury recalled how the government called all-party meetings on earlier occasions during crisis in Kashmir. Sharad Yadav told the government not to wait for an all-party meet, but take a decision to defuse the Kashmir issue immediately. SP, BSP and AIADMK asked the government to start the dialogue process.
AIADMK's Vijita and CPI(M)'s Yechury also accused the government of failing to fulfill promises made to Kashmiri people.
"Give them more education and employment opportunities. Common people are affected because of militant activities. The government must take constructive measure to restore peace," the AIADMK leader said.
Close Story
Personalise your news feed. Follow trending topics