Akhilesh camp attacks 'outsider' Amar; Shivpal says 'take everyone along'
The Samajwadi Party was split down the middle on Thursday, with Mulayam Singh Yadav's cousin Ramgopal backing Uttar Pradesh chief minister Akhilesh Yadav, who is locked in a turf war with uncle Shivpal. Party leaders, meanwhile, blamed "outsider" Amar Singh for the crisis.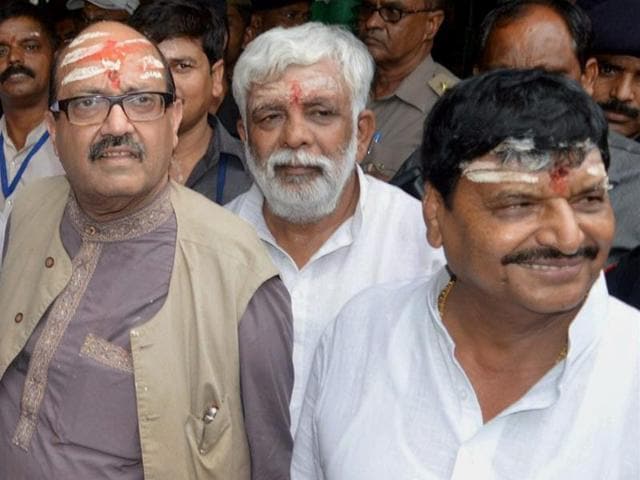 Updated on Sep 15, 2016 07:45 PM IST
The Samajwadi Party appeared split down the middle on Thursday even as a crisis gripped the ruling family in Uttar Pradesh ahead of next year's state elections.
In the latest episode in what many have dubbed a family feud, Ramgopal Yadav, party chief Mulayam Singh's Yadav's cousin, backed chief minister Akhilesh Yadav.
Akhilesh appears to be locked in a turf war with his uncle, Shivpal Singh Yadav. Some party leaders, meanwhile, blamed "outsider" Amar Singh for the political crisis.
Akhilesh's father, Mulayam, rushed to Lucknow from Delhi and is expected to hold talks with his son and other leaders in a bid to control the damage.
Samajwadi Party national general secretary Ramgopal, who met Akhilesh in Lucknow, said the leadership had committed an unintentional "mistake" by removing Akhilesh as the party's UP president.
He said that "differences" had arisen due to some "misunderstanding" even as he made a veiled attack on Rajya Sabh MP Amar Singh.
The feud had spilled into the open after the chief minister stripped Shivpal of key ministerial portfolios on September 13, hours after he was replaced with Shivpal as the party's state unit chief by his father.
"Differences do take place on some minor point and they can be resolved.... The leadership, though not deliberately, had made a mistake when CM was removed from the post of (state) president (of SP)," Ram Gopal told reporters.
When asked about the chief minister's statement regarding role of "outsiders" in the family tussle, Ram Gopal said, "There is a general perception in party workers, leaders and people about this...".
Singh, who was expelled from the party in 2010, rejoined the SP recently.
Cabinet minister Azam Khan also took a swipe at his bete-noir Amar Singh, though he refrained from naming him, and said the Chief Minister was right in his assessment.
"If the chief minister is saying it, he must be right as he is in a responsible position. We had such apprehensions and that is why we had strongly opposed the return of such people who had a black history. Their only job is to make recordings and blackmail," he said.
Party's Rajya Sabha MP Naresh Agarwal said "if there is any outsider, who is interfering, he should stop immediately" and asserted that Akhilesh will be the chief ministerial candidate of Samajwadi Party in the upcoming Assembly elections in Uttar Pradesh.
With party leaders critical of Singh's alleged role in the current feud, Shivpal defended him by saying an organisation is strengthened by taking everyone along.
"Taking everyone along makes an organisation stronger. There are all kinds of people in a party. One has to apply his mind also."
Close Story