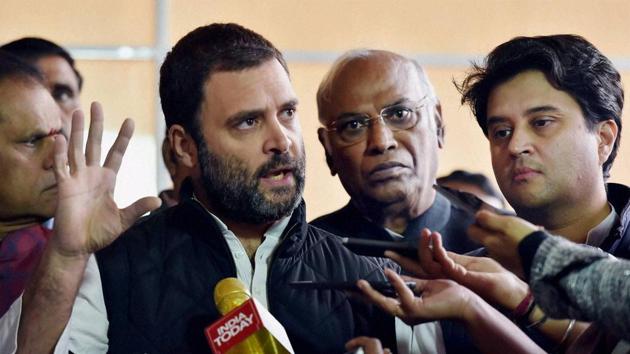 An earthquake will come if I speak in Parliament on demonetisation: Rahul
Rahul Gandhi accused the Narendra Modi government of not allowing him to speak in Parliament, and said he wants to speak about the biggest scam committed by Modi.
UPDATED ON DEC 09, 2016 04:57 PM IST
Congress vice president Rahul Gandhi on Friday accused the government of not allowing him to speak in Parliament despite his speech being ready, and said an "earthquake will come" if he gets the opportunity to speak.
"If they allow me to speak in the Parliament then you shall see that an earthquake will happen," Gandhi said.
"The Prime Minister is giving speeches across the country but is afraid of coming to the Lok Sabha and is not willing to sit there," Gandhi said and asked what could be the reason for this "nervousness".
The Congress leader was speaking after his party said in Lok Sabha that it was ready to debate the issue but the government demanded that it should first apologise to the people of the country for stalling Parliament proceedings for 16 days, leading to uproar and adjournment of the House.
Read | As it happened: Parliament adjourned as impasse over notes ban continues
Gandhi said initially the Government spoke about blackmoney, then moved to counterfeit currency and then again to a cashless society campaign.
He said, "I want to speak about the biggest scam committed by Narendra Modi single handedly" and present the "voice of people, especially the poor, who have suffered due to this move".
The current winter session has been marred by constant disruptions as both the government and the Opposition have locked horns over the issue of demonetisation of high-value currency notes.
The government on November 8 announced to spike Rs500 and Rs1,000 notes to curb "black money and corruption". The spiking of the high value notes has created a cash crunch across the country.
He said that Prime Minister Narendra Modi should come to the House so that it can be discussed "what demonetisation is, who has benefited from this decision and what it means for whom".
Read| Paytm means 'Pay to Modi': Rahul hits out at govt over demonetisation
Close