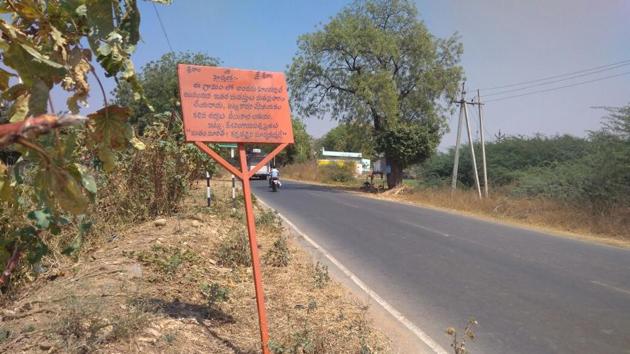 Andhra Pradesh village set to celebrate first year of 'Hindus only'
Last year, on the occasion of Lord Ram's birth, the people of Kesalingayapalle village had declared their village "Hindus only".
UPDATED ON MAR 25, 2018 07:59 AM IST
A year ago on Ram Navami, residents of Kesalingayapalle , in Andhra Pradesh's Kadapa district, declared it a "Hindus only" village and hung a saffron board at its entrance.
"This village comprises only Hindus," read the message posted on the board ." Therefore, any attempt by anybody from other religions to enter the village to campaign or preach their respective religions is strictly prohibited. If anybody violates this norm, strong action would be initiated against them – villagers of Kesalingayapalle."
The board which has "Jai Sri Ram" slogans on either side, also bears this message : "If a person converts into other religion, it amounts to changing one's own mother."
A year on, on another Ram Navami, which marks the birthday of the warrior-god, the village of 1,500 people, located 35 km from Kadapa town, remains 'Hindus only." No Christians or Muslims live in Kesalingayapalle, which has a mixed Hindu population of Kapus, scheduled castes and other backward classes.
B Ramana, a village elder and farmer, says the residents of Kesalingayapalle opted to keep people of other faiths out after some Chrstian evangelists " came to our village last year and lured some of our villagers to Christianity on the pretext that they would be cured of their physical ailments if they pray to Jesus.".
"The (Hindus only) resolution came into effect from Sri Rama Navami last year and we put up a board warning non-Hindus against preaching any other religion," Ramana said.
Those who had been drawn to Christianity were brought back into the Hindu fold.
"We took them to Swamy Achalananda, a popular seer of Achalananda Ashram at Thotlapalli near Brahmamgari Matham in the district and got them brainwashed to stay back in Hinduism," Ramana said.
What's the punishment for violators?
"We parade them around the village with womenfolk carrying brooms. We make them chant Jai Sri Ram repeatedly and send them away. We also challenge them to enter into a debate with us on religious conversions," Ramana said.
Some others say the decision of the villagers was influenced by local Rashtriya Swayamsevak Sangh groups.
"The RSS has a strong presence in Mydukur and Brahmamgari Matham areas. They are preventing the spread of other religions in the villages," said Chandra Reddy, a local journalist who works in a vernacular daily.
The RSS isrunning a shakha (branch) in Kesalingayalapalle as well. "They conduct regular training for the activists besides conducting religious activities," Reddy said.
Local RSS activist Gopal Reddy denied the allegation, saying the RSS had no role in the villagers' decision to put up the board. "It was their collective decision, as they were disturbed by the regular meetings of Christian groups in the village," he said.
Mydukur tehsildar (administrative officer) A Nageshwar Rao said he did not know about Kesalingayalapalle's 'Hindus only" declaration.
"In any case, practising and preaching of any religion is allowed as per the Constitution. We have not got any complaints from anybody about the prevention of non-Hindus (coming) into the village," he said.
Mydukur (urban) police inspector Venkateshwar said the villagers had no right to prevent non-Hindus from preaching their religion. "We shall take action if there is any complaint against the villagers," he said.
Close