Anna Hazare to resume protest for Jan Lokpal from March 23
Mar 05, 2018 03:39 PM IST
Says won't allow Kejriwal to sit on stage, takes affidavits from supporters stating that they won't join any political party.
Social activist Anna Hazare said that he will resume his battle for Jan Lokpal Bill and agriculture reforms by starting a fresh agitation in New Delhi from March 23. The activist, who was in Kurukshetra on Sunday, asked his supporters to start working at the ground-level to make the protest successful so as to pressurise the government to bring a strict anti-corruption law.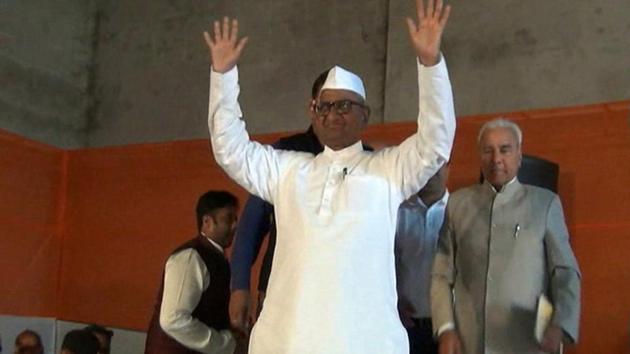 "Even after 70 years of Independence, the poor remain poor and corruption is at its peak, but nobody cares," he said, adding that the successive governments have failed to eliminate corruption or increase the income of farmers and labourers.
"We have held 40 meetings in the country in the past three months and I have been travelling to several places to mobilise people against corruption," the activist said.
He, however, slammed his old associate and Delhi chief minister Arvind Kejriwal for forming a political party saying, "I stopped talking to him (Kejriwal) since he formed a political party. I won't allow him to sit on the stage in Delhi during our protest."
"To avoid the making of more Kejriwals in the future, we are taking affidavits from the participants of the Andolan in which they promise not to join any political party. So far, we have received 5,000 affidavits," Anna Hazare said, adding that if anyone of his supporter wants to contest the polls, he or she can do so independently.
Regarding the permission for the protest, Anna Hazare said that he had already applied for permission for protest at Ram Lila Ground and three other locations but no response has been received yet. "If we don't get the permission for protest, we will start hunger strike from the jail," he added.
On BJP's victory in the recently concluded polls, he said that political parties should understand the public's sentiments or else people will teach a lesson to the politicians. He appealed to the youths to start thinking about the future of the country by learning from the sacrifices of the heroes of freedom struggle.