Another tiger on prowl in Kerala's Wayanad
Jan 15, 2023 07:52 PM IST
According to the locals, a cow was killed on Saturday in the paddy field close to the forest when it was let off for grazing and remains of another prey animal were found in a nearby area on Sunday
After a tiger was captured on Saturday in Kerala's Wayanad district, who mauled a farmer to death earlier this week, another tiger was spotted on Saturday itself in the district's southwest division which, according to the people, killed a cow and created another round of panic among the villagers.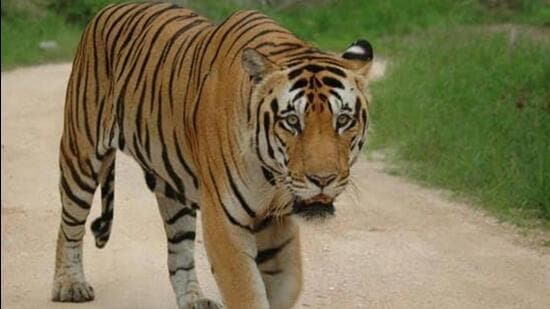 After the claims of another tiger being spotted on Saturday, the district administration called an all-party meeting on Sunday. They also informed the forest officials.
According to the locals, a cow was killed on Saturday in the paddy field close to the forest when it was let off for grazing and remains of another prey animal were found in a nearby area on Sunday, said a forest official.
Also Read: 3 spotted deer run over by speeding train in Dudhwa
"A rapid response team is rushed to the area and examining pug marks. We will take all measures to address the fear of people. We will install fresh cages after ensuring that domestic animal was killed by a tiger," said Wayanad divisional forest officer A Shajana, adding officials were closely monitoring tip-offs provided by local people.
On Friday, the district observed a shutdown following the death of a 52-year-old farmer in another tiger attack. Agitated people wanted to shoot the animal even as the forest department strengthened its measures to dart the animal and capture it.
Meanwhile, forest officials have asked people to remain vigilant and asked people to cooperate with forest officials.
"The government will do everything possible to remove the fear of people. But it is not fair to block officials who carry out their work and vent anger on them," forest minister A K Saseendran said.
After the recent incident in which the farmer was killed in a tiger attack, Saseendran on Friday said that Kerala will move the Supreme Court soon with a plea to restrict the number of wild animals in forests as animal attacks and incursions turned routine.
Two weeks back, an injured tiger that killed many domestic animals was found dead in a tea plantation in the Vakery area.
Last Monday, forest officials darted a wild elephant that sneaked into Sultan Bathery town and attacked a person, and later shifted it to an elephant training camp. In Munnar, in Idukki, a bike rider had a narrow escape after a wild elephant charged towards him. Last year Union minister for environment, forest and climate change Bhupendra Yadav told parliament that 57 people were killed in the last three years in elephant attacks in Kerala.
Besides jumbo, many lives were lost in tiger, wild boar, leopard and bison attacks in the state.