Army chief reflecting views of Modi govt, forces will suffer, says CPI(M) mouthpiece
The latest editorial in People's Democracy attacks Bipin Rawat for backing a soldier who tied a Kashmiri to a jeep.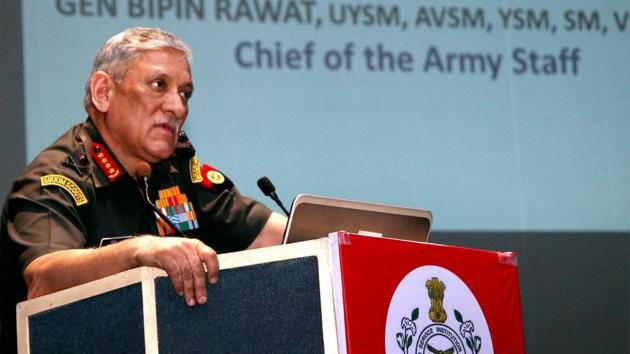 Updated on Jun 06, 2017 08:40 PM IST
Army chief Bipin Rawat is reflecting the views of the Narendra Modi government and security forces will suffer "irreparable damage" due to the Centre's "blind adherence" to using coercive force against civilians, a CPI(M) mouthpiece has claimed.
The latest editorial in People's Democracy attacked Rawat for backing a soldier who tied a Kashmiri to a jeep and said the army chief had let down the "high professional standards of the army". Former CPI(M) general secretary Prakash Karat is the editor of the paper.
"Unfortunately, the army chief is reflecting the views of the Modi government which seeks to suppress the people of Kashmir… through the sole reliance on use of force. Not only the people of Kashmir but the army itself will suffer irreparable damage due to the government's blind adherence to the use of coercive force against the civilian population," the editorial said.
Rawat has been at the centre of controversy after he decided to award a commendation to major Leetul Gogoi, who tied Kashmiri Farooq Dar to his jeep and drove around for five hours.
In an interview, the army chief also said he wished stone pelters in the Valley were firing weapons, because then "I could do what I (want to do)". He also maintained that there is a "dirty war" in Kashmir.
While the government and the army maintained that the army's strong stand in Kashmir has yielded results and put Pakistan on the backfoot, a section of the Opposition had raised questions on using a Kashmiri as a human shield.
The comments were widely seen as a reflection of the army's and government's hardening stance on Kashmir that has been rocked by months of unrest and stone pelting over alleged human rights abuses.
"To taunt protestors to take up arms, so that the army could deal with them appropriately is a needless provocation and displays an attitude which is unbecoming of a senior army officer."
Close Story
Personalise your news feed. Follow trending topics