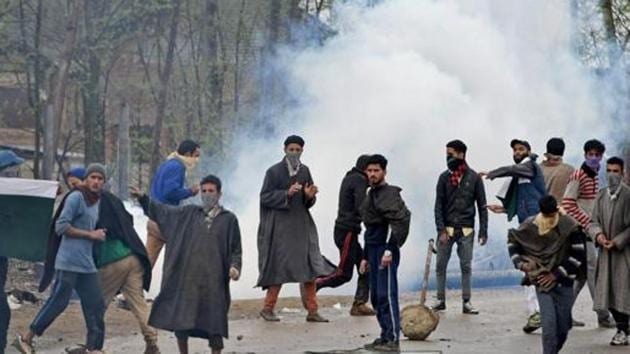 Army's aggressive approach, jobs and development: Govt's strategy in Kashmir
While army toughens its stance against insurgency, the Centre focuses on development and jobs in the state to wean youth away from militancy.
Hindustan Times, Srinagar/New Delhi | By Rahul Singh, Rajesh Ahuja and Azaan Javaid
UPDATED ON JUN 05, 2017 12:17 AM IST
The Indian army, with strong backing from the government, has hardened its stance in militancy-hit Jammu & Kashmir that has been on the boil since the Hizbul Mujahideen militant Burhan Wani was killed last July. Officers say it plans to continue to do so, at least for the summer.
"The tempo of our operations has been significantly higher than previous years and it will remain high in the coming months. Our approach is way more aggressive than before and has the backing of the force's top hierarchy," said a senior army officer. The army has been carrying out "punitive fire assaults" against Pakistani posts and has eliminated about a dozen terrorists over the last two weeks.
In a clear departure from the past, the force also officially released a rare video of heavy artillery blasting, on May 23.
Last month, BJP president Amit Shah and army chief Gen Bipin Rawat echoed a similar tone. While Shah said the Centre is formulating a "course of action" to resolve the situation, Rawat made mention of plans of tackling a "dirty war" through "innovative" ways. The army chief even defended Major Leetul Gogoi's use of a Kashmiri as 'human shield'.
BJP's ideological mentor, RSS, too advocates the use of an "iron hand" to deal with the insurgency. It wants the government to send out a "stern" message that those who threaten "the state" will not be part of any dialogue.
Another facet of the Centre's strategy is to focus on development and jobs in the state to wean youth away from militancy.
The home ministry is looking to fast-track pending development projects. Union home minister Rajnath Singh last week reviewed the implementation of the Rs 80,000 crore Prime Minister's Development Package. It consists of 63 projects, for which the centre has already released more than Rs 20,000 crore.
"The ministry has a multipronged strategy which includes building of infrastructure and capacity and generation of employment opportunities coupled with firm handling of criminal activities," said Union home ministry's spokesman Ashok Prasad.
The political establishment feels this approach has yielded results. Finance and defence minister Arun Jaitley on Thursday emphasised that the force was not only dominating the LoC but also applying pressure on militant cadres.
But the Opposition says. "When we went to Kashmir as a part of the Parliamentary delegation, a lot of proposals were submitted to the government. Not a single proposal has been implemented," said D Raja, CPI MP.
The stance however, has put the J&K police in dilemma. Part of almost all counter-insurgency operations and crackdowns, several J&K police officials, on condition of anonymity, told HT that the force was direction-less as to dealing with the unrest.
"The state government has been clear on only one issue —no more civilian killings," an officer said.
Police with residences in south Kashmir had been advised not to go home for at least 2-3 months. "Police officials stay in societies where there is strong support for militancy," said another official to Hindustan Times.
Close