As JNU simmers over attack on campus, student protests spread across country
In the Capital, at least 500 students and alumni from universities in Delhi protested outside the old Delhi Police headquarters at ITO on Sunday night after the JNU attacks.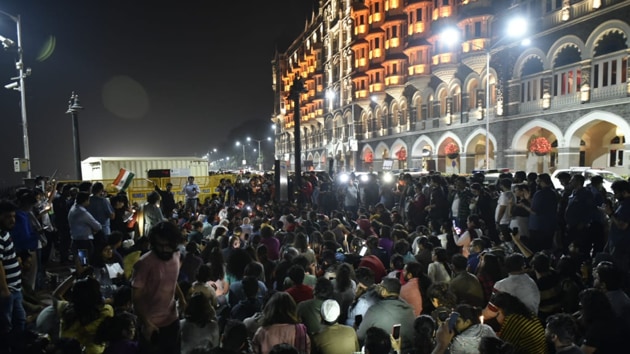 Updated on Aug 19, 2020 01:49 AM IST
Hindustan Times, New Delhi |
HT Correspodent
Protests against the violence in New Delhi's Jawaharlal Nehru University (JNU) swept across the country on Monday as authorities deployed a large number of police personnel outside the campus.
Several masked people, armed with sticks and stones, barged into the university campus spreading chaos and terror as they targeted students and teachers on Sunday evening.
JNU students' union blamed members of the Akhil Bharatiya Vidyarthi Parishad (ABVP), the youth wing of the Rashtriya Swayamsevak Sangh. ABVP denied they had instigated the violence and said they were first attacked by the left-leaning students.
Follow JNU live updates here
Authorities have put in a massive deployment of security personnel at JNU and are only allowing students with identity cards inside the campus. Security was deployed outside the hostels, administration block and other important locations across the campus.
Watch: Student protests spread across country after JNU violence
The gates of JNU were closed later with iron chains as senior police officials gathered outside.
Delhi Police have registered a First Information Report (FIR) in connection with violence in Jawaharlal Nehru University (JNU) under sections of rioting and damage of property.
Thousands across the country started their protest right after a masked mob attacked students and teachers and vandalised hostels in JNU on Sunday and continued their demonstrations on Monday.
Mumbai
A midnight protest meet at the iconic Gateway of India, which began hours after a mob attack at JNU, continued through Monday morning. More protest rallies are likely to take place in the Maharashtra capital through the day.
Hundreds of students and citizens had gathered spontaneously at the Gateway of India on Sunday around midnight, a couple of hours after masked goons attacked students and teachers of JNU.
Apart from students of various organisations in Mumbai, citizens, too, joined in the protests. Social activist and former JNU student Umar Khalid, too, was present at the protest.
Students from the University of Mumbai, Indian Institute of Technology, Bombay and Tata Institute of Social Sciences are likely to join the protests on Monday.
A student from IIT Bombay said that the protests and rallies planned through the day will be peaceful.
"The Occupy Gateway call is for all Mumbaiites to come forward and raise their voice against the violence at JNU. All protests will be peaceful. We will fight with pens, not swords," he said.
While students and citizens continued to protest at the Gateway of India on Monday, the Joint Action Committee (JAC) has called for a rally at Hutatma Chowk in south Mumbai at 4pm.
The student-led organisation JAC was formed in 2016 following the death of Rohith Vemula to seek justice for the Hyderabad university student who committed suicide.
Delhi
In the Capital, at least 500 students and alumni from universities in Delhi protested outside the old Delhi Police headquarters at ITO on Sunday night after the JNU attacks.
Protesters, largely students and teachers from Jamia Millia Islamia, JNU and Delhi University, claimed the police did not act promptly in stopping the attacks.
They also alleged that police in plainclothes also assaulted students inside the JNU campus and demanded immediate registration of a first information report, or FIR, into the incident. They also shouted slogans against the police and Citizenship (Amendment) Act (CAA).
Aligarh
Students of the Aligarh Muslim University (AMU), which saw violence in December last year during protests against the Citizenship Amendment Act (CAA) also took out a candlelight march on Sunday to protest the violence at JNU.
They demanded the masked mob, which attacked JNU students and vandalised property, must be arrested. They held the march inside the campus and ended at its Bab-e-Syed gate.
"Our protest was peaceful. ABVP men attacked unarmed students in JNU. They must be booked. The government is booking people for protesting, then it must lodge cases against the people who have gone inside a university campus and beaten up students and vandalised the premises," said former AMU Students' Union vice-president Hamza Sufiyan.
The AMU Teachers' Association (AMUTA) released a statement urging the Chief Justice of India to take suo motu cognisance of the "unprecedented situation arising from Sunday's assault on JNU students and teachers".
Guwahati
University students in Assam have also condemned Sunday evening's violence at JNU and have decided to stage a Dhikkar Rally in Guwahati on Monday afternoon.
To express solidarity with JNU students and to condemn the incident in Delhi, students of Gauhati University, Cotton University and others colleges of the city will also gather at Nehru Park at 4pm on Monday and take part in the protest rally.
At least two students from Assam studying in JNU have received injuries in the attack last night.
"What happened at JNU last night is shameful and we strongly condemn it. The police remained mute spectators to the violence. It seems the goons had indirect support of the government at Centre," Moon Talukdar, the general secretary of postgraduate students' union of Gauhati University, told journalists on Monday.
"We fear such incidents could get repeated in other universities. We warn the government that if such acts continue we will have no option but to resort to agitation," Talukdar said.
Hyderabad
The violent attack by a mob at JNU also triggered spontaneous protests in Hyderabad on Sunday night.
More than 200 students from the University of Hyderabad took out a rally from the south campus to the main gate around midnight in protest against the attacks in JNU.
"At a short notice, the students gathered at the south campus building following a call given by the students' union, after coming to know about the incidents in JNU. We took out a rally till the main campus gate demanding action against the accused," Students Federation of India (SFI) leader and UoH Students' Union president Abishek Nandan said while speaking to HT.
The students shouted slogans against the Narendra Modi government and right-wing groups for the attacks on the JNU students. They called upon their JNU counterparts to be vigilant against the conspiracies by rival groups.
Nandan said the students' union would be meeting again on Monday afternoon to chalk out the future course of action.
At Ambedkar Statue near Tank Bund on the banks of Hussainsagar lake, some Leftist activists staged a protest demonstration after midnight against the JNU incident.
"In solidarity with the brave students of JNU. This cruel attack is meant to 'punish' JNU students because they dared to stand up. It's so bad that even Union Ministers are tweeting helplessly. Modi Sarkar must answer why cops are siding with goons," All India Majlis-e-Ittehadul Muslimeen (AIMIM) party president and Hyderabad MP Asaduddin Owaisi tweeted.
Kerala
The CPI(M)'s student outfit, Students Federation of India, has asked students to boycott classes to protest against what it called "saffron goonda" attacks on the premier educational institution.
Classes in many educational institutions in the state were disrupted due to the strike called by the SFI to protest the attack on JNU students.
Other cities
In Uttarakhand's Dehradun, J&KSA along with SFI will hold a protest against JNU incident later in the day.
A protest took place in Chhattisgarh's capital Raipur at around midnight where about 300 people, including students and activists, protested against the violence in JNU.
In Bihar's Patna, students' union president Manish Kumar led the protest. Students associated with the All India Students Federation (AISF) also staged a protest outside Patna University office.
Topics
Close Story