As Sisi meets Modi, India and Egypt elevate relations to strategic partnership
Published on Jan 25, 2023 03:11 PM IST
President Abdel Fattah El-Sisi is on a three-day visit to India and will be the first Egyptian leader to be the chief guest at India's Republic Day on January 26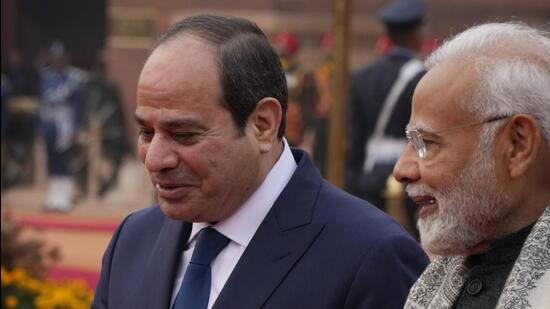 NEW DELHI: India and Egypt on Wednesday elevated their relationship to a strategic partnership as Prime Minister Narendra Modi and President Abdel Fattah El-Sisi unveiled plans to boost cooperation in defence and security, counter-terrorism and trade.
Sisi is on a three-day visit to India and will be the first Egyptian leader to be the chief guest at India's Republic Day on January 26. He held wide-ranging talks with Modi aimed at revitalising bilateral relations, with security and economic cooperation emerging as key pillars.
During a joint media interaction with Sisi, Modi said the two sides perceive terrorism as the most serious security threat to humanity and had agreed that concrete measures are required to end cross-border terrorism. Bilateral cooperation will include sharing of information and intelligence on terrorism, he said.
Sisi too said Egypt is keen on working with India on counter-terrorism and defence. He said the global economic situation and its impact on developing countries had figured in the talks. Sisi also called for more flights between the two countries to boost tourism.
The two countries signed five agreements for cooperation in IT, cyber-security, culture, youth matters and broadcasting.
In the field of trade, Modi said the two sides had decided to take bilateral trade to $12 billion in the next five years.
"We have decided that under the India-Egypt strategic partnership, we will develop a long-term framework for comprehensive cooperation in political, security, economic and scientific fields," he said.
The two sides further decided to strengthen cooperation between the defence industries of India and Egypt, he added.
"We discussed regional and global issues of mutual interests...We also deliberated on bilateral defence cooperation," Sisi said.
Sisi also endorsed Modi's views on terrorism and said global efforts are required to deal with the problem. "We have similar views on dealing with terrorism and extremism," he said.
The 68-year-old General-turned-politician earlier visited India in October 2015 to participate in the third India-Africa Forum Summit, and again in September 2016. A military contingent from the Egyptian Army will participate in the Republic Day parade, only the fourth time that a foreign contingent has joined the event.
India is keen on reviving ties with Egypt after focusing on other players in West Asia in recent years. Both countries have a strong relationship dating back to the 1950s and were among the founding members of the Non-Aligned Movement. India is also eyeing Egypt as hub to access markets in Africa and Europe.