Ashok Chawla quits as National Stock Exchange chairman after CBI gets sanction to prosecute him in Aircel-Maxis case
A former finance secretary, Chawla took over as the chairman of the exchange on March 28, 2016. He had also served as civil aviation secretary and chairperson of the Competition Commission of India, among other roles.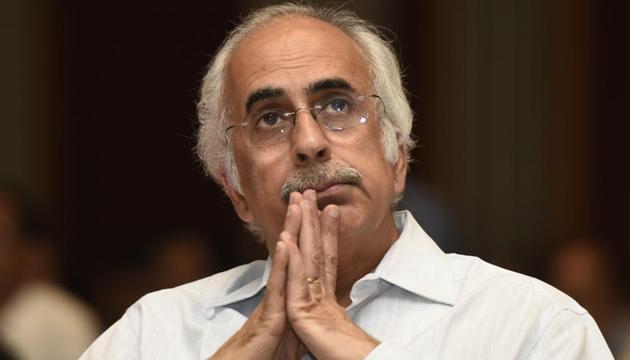 Updated on Jan 11, 2019 11:46 PM IST
The Central Bureau of Investigation (CBI) on Friday informed a special court that the Union government has granted sanction for the prosecution of five retired and serving officials, including two former finance secretaries, Ashok Kumar Jha and Ashok Chawla, and two serving Indian Administrative Service (IAS) officers, in the Aircel-Maxis case.
Soon after, Chawla resigned as the chairman of the country's largest bourse, the National Stock Exchange. Chawla could not be contacted. When HT contacted Jha on phone, he expressed his inability to talk. Former finance minister P Chidambaram and his son Karti too are accused in the case.
Besides Jha and Chawla, the centre granted CBI sanction to prosecute IAS officers Kumar Sanjay Krishna and Dipak Kumar Singh, and then under secretary Ram Sharan in the case. All of them served in the Union finance ministry in 2006.
They all were members of the Foreign Investment Promotion Board (FIPB) which has been disbanded now. Jha was serving as secretary (economic affairs), Chawla was additional secretary, Krishna was joint secretary and Singh was a director in the ministry.
The case refers to a 2006 investment in Indian telco Aircel Ltd by Malaysia's Maxis Communications which, according to CBI, was a violation of then prevailing foreign investments laws.
The agency has alleged that despite the fact that investment of $800 million (over ₹3,500 crore) was made in Aircel by Maxis, and the Cabinet committee on economic affairs was the competent authority to grant approval, the investment proposal was wrongly projected as merely involving an investment of ₹180 crore and approval was granted by the then finance minister P Chidambaram.
The Chidambarams have denied all the charges. On Friday, CBI made its submissions before Special Judge OP Saini who extended till February 1 the interim protection from arrest granted to Chidambaram and Karti in case. Solicitor General Tushar Mehta represented CBI in the court on Friday.
Senior advocates Kapil Sibal and A M Singhvi appeared for the Chidambarams and sought extension of protection granted to them. The Enforcement Directorate too has filed a separate money laundering case in the matter.
The Chidambarams and top finance ministry bureaucrats were named as accused in the supplementary chargesheet in the case, filed in July last year. But the court didn't take cognisance of the chargesheet against the former finance secretaries in absence of a sanction from the government for their prosecution.
(with inputs from PTI)
Close Story