In February 2022, a portion of a sixth-floor apartment in tower D collapsed vertically, killing two women and injuring many others.


Published on Jan 17, 2023 10:29 PM IST
"There was no raid. No one was questioned. No summons was issued. We took one computer from his office as part of the probe," a CBI official said.


Updated on Jan 14, 2023 10:53 PM IST
Delhi liquor policy: Manish Sisodia was named as an accused in the case.


Updated on Jan 14, 2023 05:23 PM IST
A court on Friday allowed the Central Bureau of Investigation (CBI) to invoke section 409 of the Indian Penal Code against Chanda Kochhar, which provides for life imprisonment as the maximum punishment.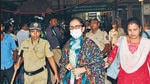 Published on Jan 13, 2023 10:07 PM IST
The agency carried out raids on Thursday at a few places including Mayaram's residences in Jaipur and Delhi in the matter, people familiar with the development said on Thursday.


Updated on Jan 13, 2023 05:15 AM IST
By
Neeraj Chauhan
, New Delhi