Republic Day: Several low intensity blasts in Assam and Manipur
Updated on Jan 26, 2017 05:46 PM IST
Three of the blasts took place at Nazira and Sonari in Charaideo district while the fourth took place at Chowkidingee in Dibrugarh. Improvised explosive devices (IEDs) are believed to have been used in all the blasts.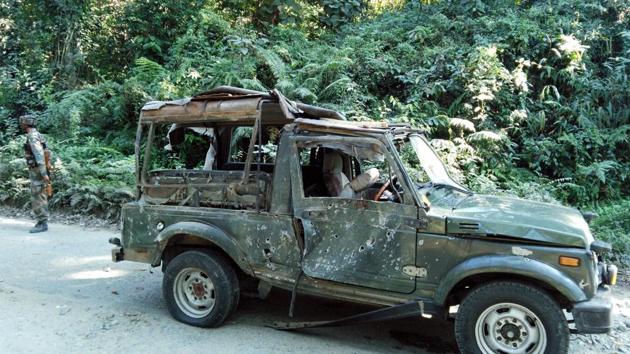 Insurgent outfits in north-east carried out eight low intensity blasts in Assam and Manipur on Thursday morning in protest against Republic Day celebrations. No one was injured or killed in the blasts.
The blasts took place one after another in different locations of Charaideo, Dibrugarh and Sadiya districts in upper Assam. Two blasts also took place in Imphal East and Imphal West districts of Manipur.
"Six low intensity blasts took place in Upper Assam. All incidents happened at places where there were no people. Republic Day celebrations were not affected at all," Assam police DGP Mukesh Sahay told HT.
He added that the banned United Liberation Front of Assam-Independent (ULFA-I) could be responsible for the blasts.
Four of the blasts took place in Charaideo district while one each in Dibrugarh and Sadiya. Improvised explosive devices (IEDs) are believed to have been used in some of the blasts.
"There was one low intensity blast inside a tea estate at a place called Convoy Road. It occurred around 8:45 am at an isolated spot and no one was injured," Dibrugarh police chief Gautam Borah said.
Prior to the blasts, ULFA-I chief Paresh Baruah had called some television news channels and warned of carrying out attacks as a mark of protest against Republic Day celebrations.
Baruah, who is suspected to be hiding in Myanmar, had appealed to the public not to attend the celebrations and stay away from public places.
"People of Assam favour peace and we thank them for making the Republic Day celebrations successful. Security forces will continue to fight determinedly against terror tactics," Assam chief minister Sarbananda Sonowal said.
Thursday's blasts come four days after ULFA-I and other insurgent outfits of the region had attacked an Assam Rifles convoy and killed two jawans in Tinsukia district. Two insurgents were also killed in counter attack.
Like previous years, insurgent outfits in northeast including ULFA-I had given a call to boycott Republic Day celebrations this year. To show their protest, outfits carry out blasts and attacks on security forces.